Maryland Roofing Services You Can Trust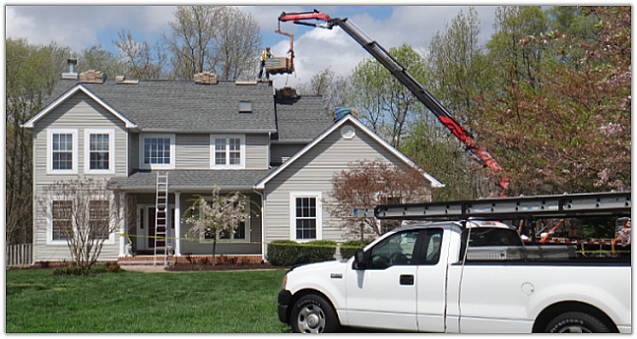 Whether you need a Roof Repair, Installation, or a No Hassle* New Roof Estimate, we'll make things easy and convenient for you ...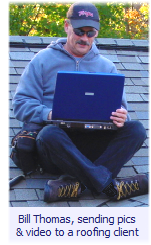 Let's face it ... there's nothing fun about a roof leak or getting roof estimates. It's kind of like getting a toothache and having to go to the dentist. You know that there's something serious going on, and now you're wondering about how discomforting the next step will be ...
Well, after almost 40 years of dealing with and fixing roofing problems,
I know how you feel! So my first thought is to get out to your house promptly, stop the damage, start the healing process, and make the whole situation easy and stress free for you!
Roof Inspection
As soon as you contact us, I'll start by getting up on your roof and conducting a quick, but thorough roof inspection. From there I'll be able to make an immediate and accurate diagnosis and get things going in the right direction... so we can start to get things back to normal for you, and fix the problem the RIGHT way, the FIRST time.

Roof Job Pictures
While I'm up there I'll be taking some photos, maybe even a video that I'll post online -- so that you can get EASY access from any location. The good news is, even if you're at work - or out of town, you will be able to see the roofing solutions that we're focusing on.
Maybe you're fortunate and only need a roof restoration or repair - well, we're one of the few Maryland Roofers that actually "likes" to do this type of work.
If it's an emergency, like a roof leak, we can usually get started and complete your roofing repairs right away. Our customers love the way we document our work with pictures, too!
Our Services
Skylight repair or replacement
Pipe collar repair
Chimney flashing leaks
Seamless gutters
Ridge vent repair
Replace missing shingles
Subroofing replacement
Shingle blow offs, or almost any other roofing issue ...
And the prices will be great!

But unfortunately, there comes a time when an old roof wears out and maybe it's just too expensive to be fixed anymore ...
New Roof Installation
When you DO need a roof replacement, we're your best choice! We'll work with you to keep the cost of your new roof within budget and then create a beautiful new "lifetime roof" for your home!
Unlike many other local roofers, after we actually "get up on the roof" and make the initial roof inspection and assessment, you'll get everything you need to make proper choices:
We're very proud to offer a fixed price contract that protects you against unexpected or additional expenses ... you know, the "I've got some bad news for you" up-charges that some guys add on when your roof is halfway torn off and open to the elements.
I haven't seen anybody else in the area offering this type of protection ...
Best Maryland Roofers
Our Master Roofers are trained by our manufacturers, and through our more stringent "in house" workshops - many have been with us for at least 10 years - and since much of our business is word-of-mouth from past customers, it says a lot for the guys that skillfully create your roofing system. We're very proud of them and they're part of our roofing "family".

For your protection, Our ten (10) year workmanship warranty on new roofs, and two (2) year guarantee on all roofing repairs keeps you covered.

Now, I'm one of those guys that stays involved in "the whole process" ... so I'm usually around during every new roof installation, and I've been doing it this way for a longtime (almost 40 years!). That's thousands of roofs, folks. I just can't get enough of it.
Quality Products
Of course any roof job is only as good as the materials used -- I'm sure you would expect us to use only the finest brand name products, and we DO, some with lifetime warranties!
Certainteed Premium Lifetime Shingles
Ice and Water Shield
Synthetic Underlayment
GAF Roofing and Accessories
Mule Hide low-slope modified bitumen
Alcoa Seamless gutters and accessories
Air-Vent Shingle Vent II and metal ridge vent
Leaf Relief Gutter Guards
Berger Synthetic Underlayment and accessories
YOU will get a great job, I promise!



So ... Get your Free Md Roof Estimate Today:
Our Md Service Area:
If your area (in Maryland) is viewable on this map, then we can help you!
Annapolis
Beltsville
Bethesda
Bowie
Brookeville
Burtonsville
Capitol Hts
Clarksville
Clinton
College Park
Columbia
Crofton
Darnestown
Derwood
Elkridge
Ellicott City
Fort Washington
Gaithersburg
Germantown
Glenn Dale
Hyattsville

Kensington
Lanham
LaPlata
Laurel
Laytonsville
Millersville
Montgomery Village
North Potomac
Odenton
Olney
Oxon Hill Potomac
Prince Frederick
Rockville
Severn
Severna Park
Silver Spring
Upper Marlboro
Waldorf
Wheaton
"In fact, he was the only roofer of several to
actually go up on the roof to see what was required
before providing me with an estimate. . ."


"It was a pleasure doing business with Home Restorations (Mr. Bill Thomas). I had two layers of roofing shingles removed and Certainteed XT25 Shingles installed, Certainteed Shingle Vent II installed, vinyl soffit installed, PVC covered aluminum installed on the fascia boards under the gutter, PVC covered aluminum on the rake boards, and a chimney cap.

The work was started on time and completed in a timely manner considering the weather we encountered during that period. The quality and workmanship are outstanding and while I could have spent more on the job with another contractor, I don't believe the work could have been done any better and perhaps not as good. I have received many compliments from my neighbors.
The crew was very professional and worked non-stop except for a short lunch break. Mr. Thomas is very meticulous and takes before and after photos which are helpful since most people are not able to get on the roof to see what is required. In fact, he was the only roofer of several to actually go up on the roof to see what was required before providing me with an estimate with photos. No other roofer even noticed the deteriorating chimney cap. He also ensured that we were completely satisfied with the work by staying in touch. The workmanship warranty is the best I've seen.
Also, dealing with Home Restorations was very convenient in that we were able to work out all of the details of the contract via email, including the roofing photos (no extra charge), of what was required before we actually met to sign the contract. During the course of the work we discovered a gutter problem not related to the roofing installation and it was repaired for only the cost of materials.
I am extremely satisfied with the work done by Home Restorations and highly recommend this contractor."
John Davidson

Silver Spring, Maryland 20906

While you're here, check out our "Job of the Week" ... a kind of a unique application using the "Edge" soffit ventilation system on a roof repair in Bowie Md.