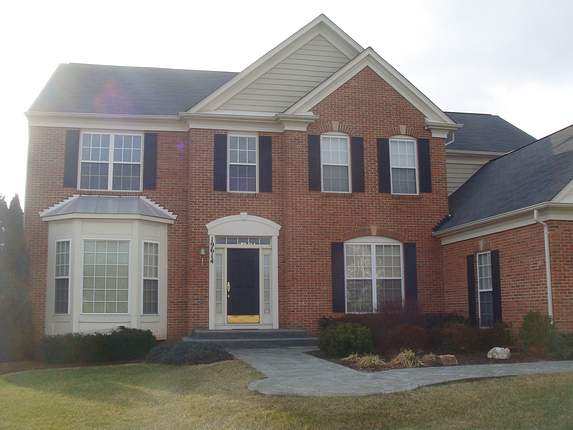 $247 Roof Repair Laytonsville, Maryland: This Home in the Gaithersburg / Laytonsville, Md area needs roofing repair in several areas where shingles have been "blown off". We'll take care of these repairs and some additional maintenance items -- and cover them all under our "$247 Md Roof Repair Special."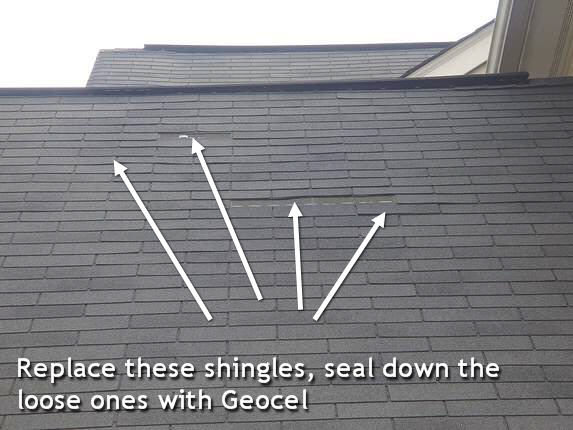 Missing shingles will be replaced and shingles that are not sealed will be sealed with Geocel Tripolymer Sealant.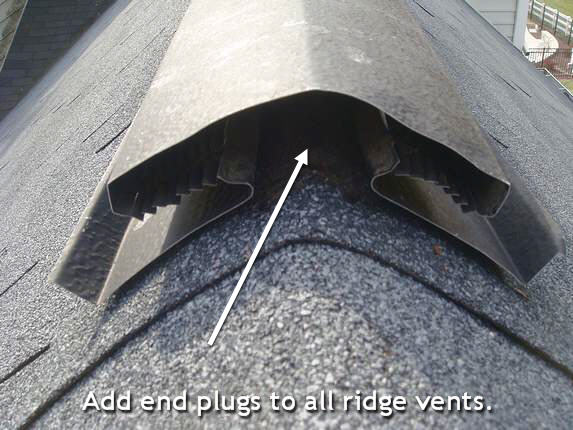 In this subdivision of approximately 70 homes, it seems that almost all of the houses were lacking the rubber end plugs designed to seal the metal ridge vents against the elements. We'll add them where necessary and seal them with Geocel.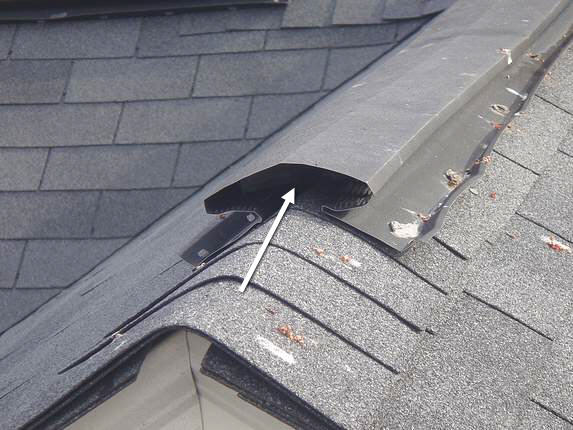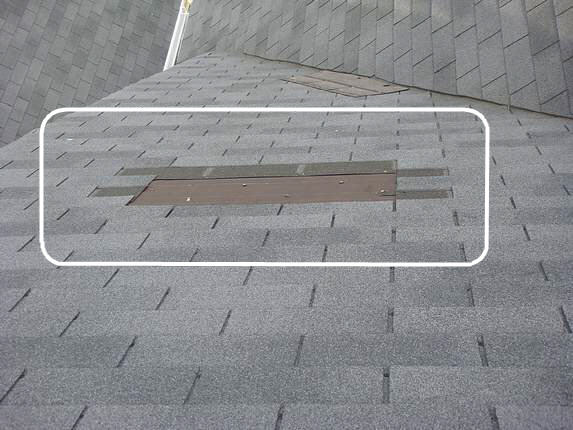 High winds combined with "less-than-perfect" roof installations by the builder contribute to many homes prematurely losing their shingles. The Model XT25 shingle, shown here, is manufactured by Certainteed and warranted for 25 years. We've used this type of shingle for years, and it's a good product . . .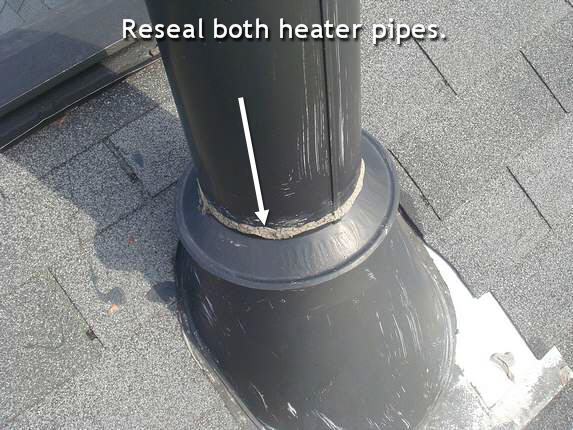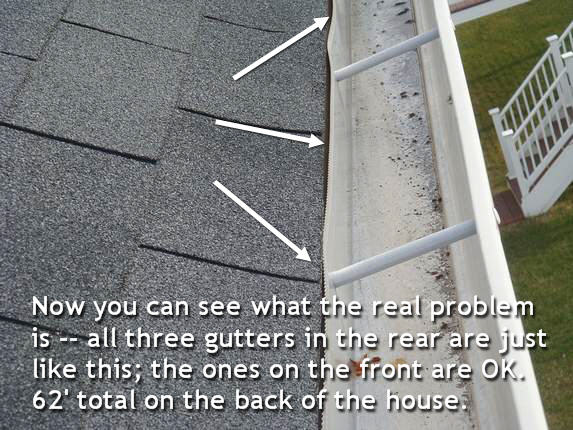 This photo shows a "roofer goof" that's causing water from the roof to run behind the gutter, causing damage to the fascia boards.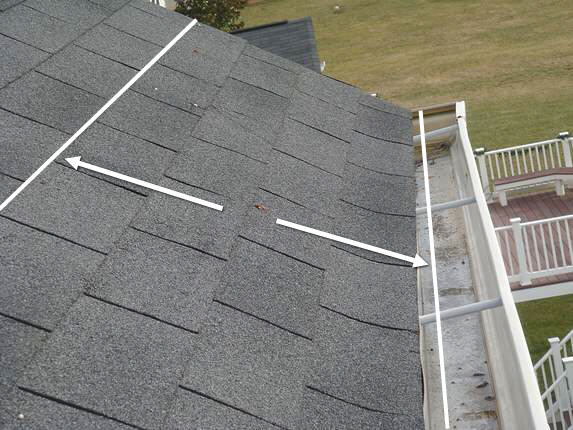 We'll first remove the first four rows of shingles.
Then, we'll install a new aluminum drip edge into the gutter, overhanging 1".
Then Certainteed WinterGuard "ice and water shield" underlayment will be installed
. . . and then 5 rows of new Certainteed Moire Black shingles.
Take a look at how our drip edge system works:
http://www.homerestorationsmd.com/custom-drip-edge.html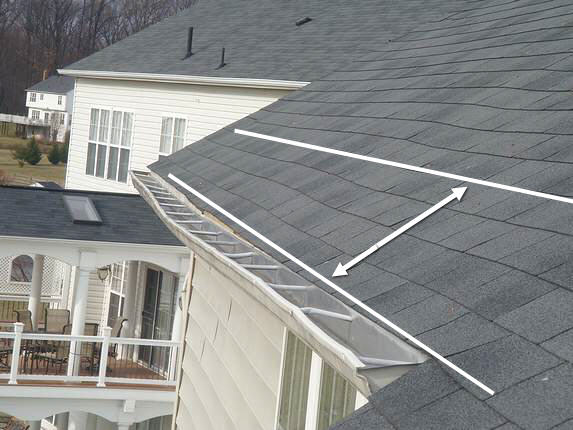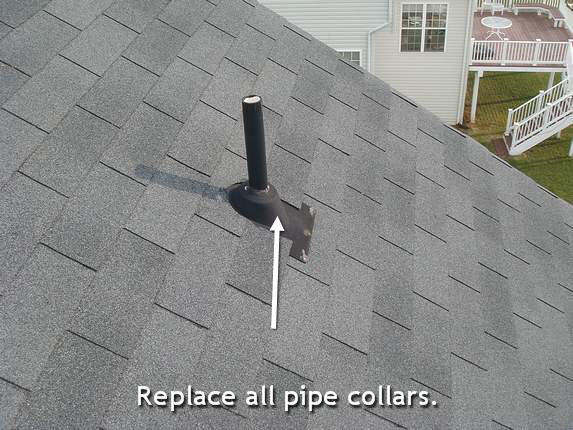 Roofing Pipe collars that are 7 years old generally have small leaks in the rubber boot surrounding the pip and must be replaced. We use the highest quality neoprene/aluminum upgrade because the plastic based type (shown here) warp, crack, and leak.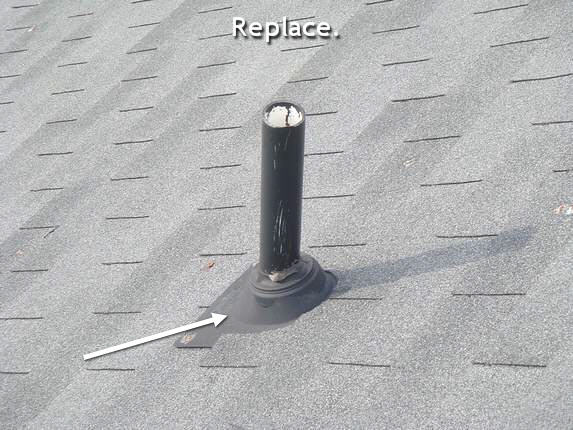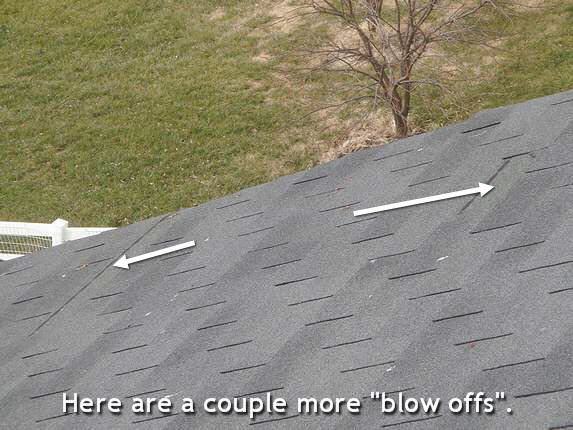 $247 Roof Repair: "During" and "After" Pictures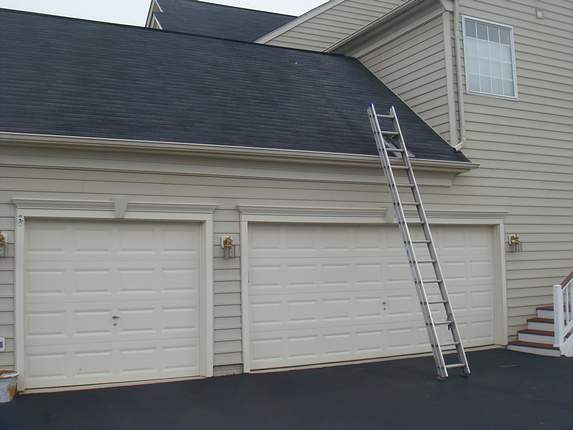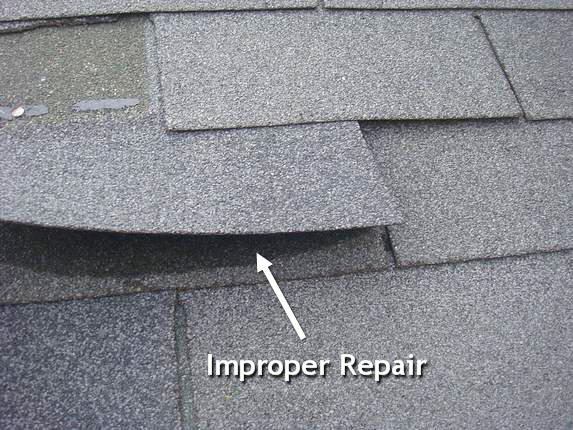 Here's another "roofer goof" where the repair guy didn't remove the leaking shingle, he just put a new shingle over the old one. As a result, the new shingle did not seal properly and it wasn't long befoe the wind helped remove the shingles around it.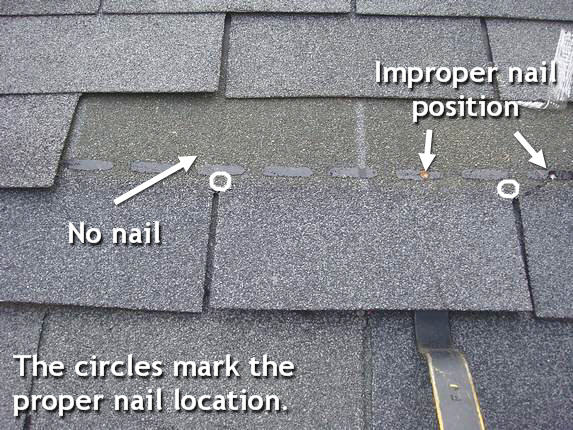 "Roofer Goof" #3: Improper Nailing. See how far off the original roofer was with his nailing. Mistakes like these cause problems and usually void the manufacturer's warranty. Sorry.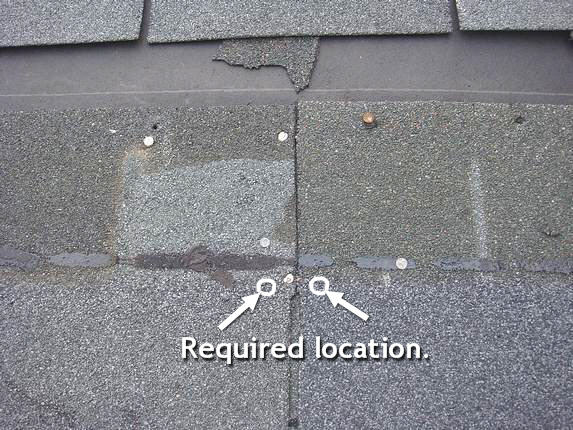 I just don't know what some of these installers were thinking . . . this is a mess!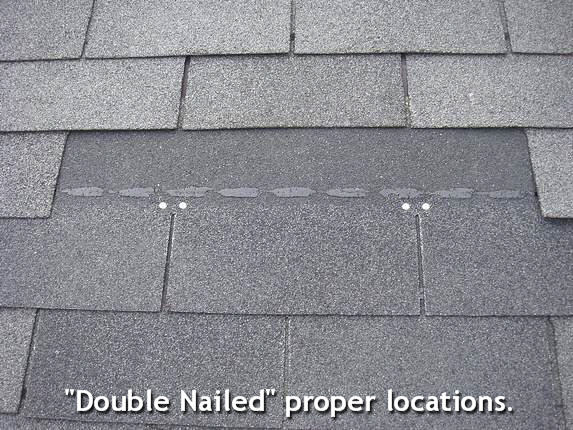 Our nailing technique on these replacement shingles will virtually eliminate future "blow offs".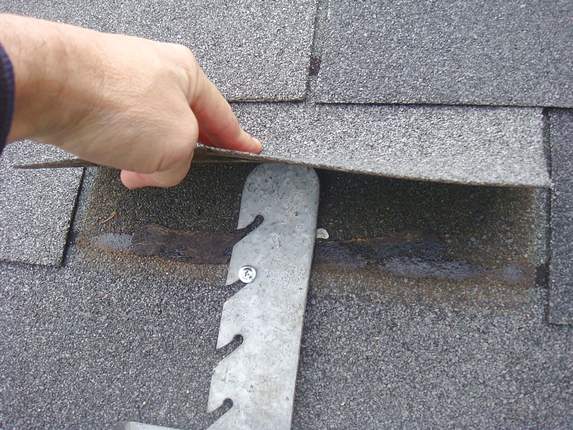 On steep roofs like this one (10:12 pitch) we use "roof jacks"; they're temporary supports that provide a safe platform and also allow us to do a better quality roof repair. Unlike some devices other roofers use, roof jacks won't damage the shingles.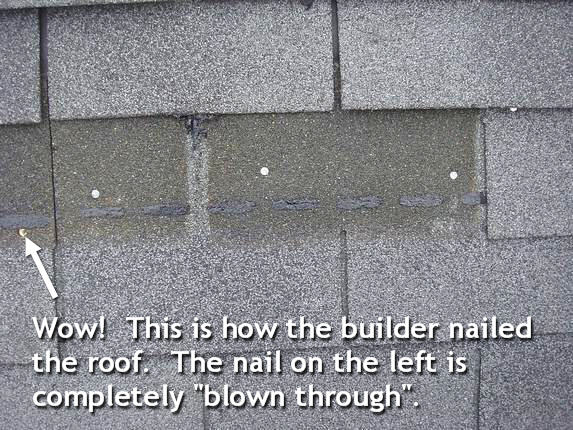 It's unbelievable that a builder would not know the poor quality of work some of their roofers are producing -- but I see this all the time! There's just no excuse for this and that's why we provide photos and post them online to help educate consumers.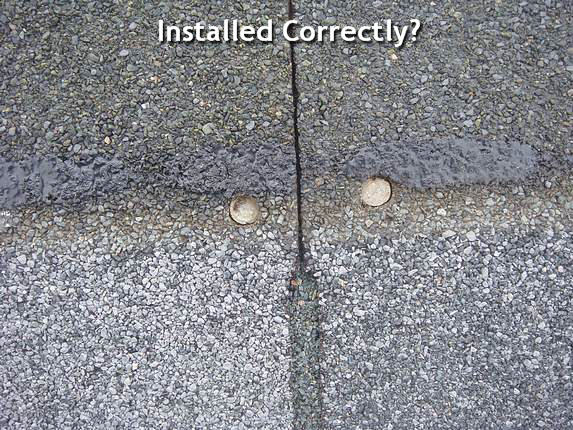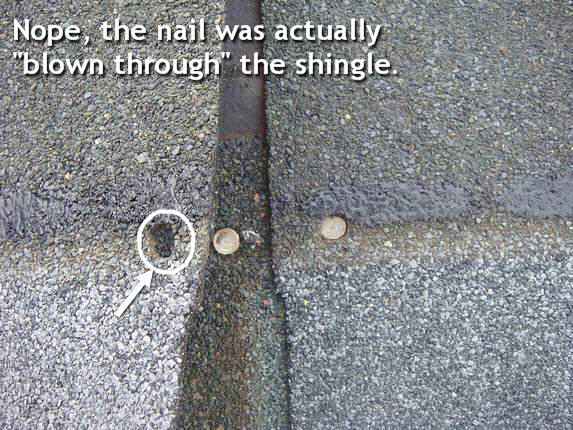 Inexperienced and untrained roofers with pneumatic roof nailers are the
#1 cause of shingle blowoffs, in my opinion.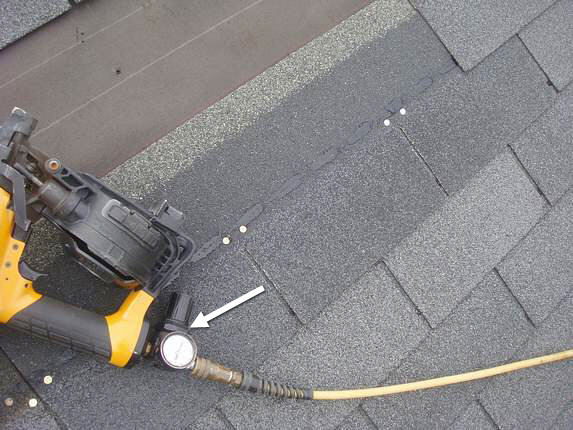 Proper equipment, training (we developed our own improved training procedures), and attention to detail guarantees a perfect job every time . . .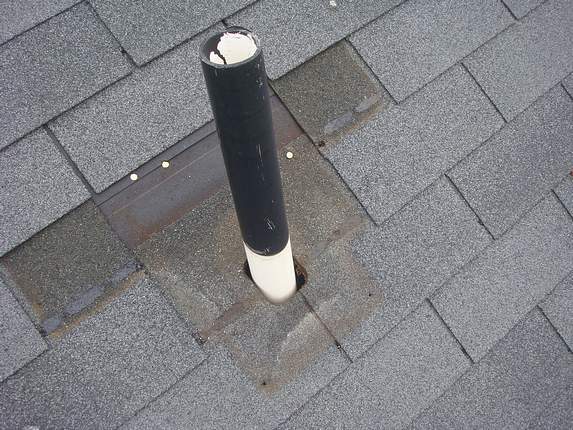 Pipe collar #1 has been removed and is ready for a new replacement.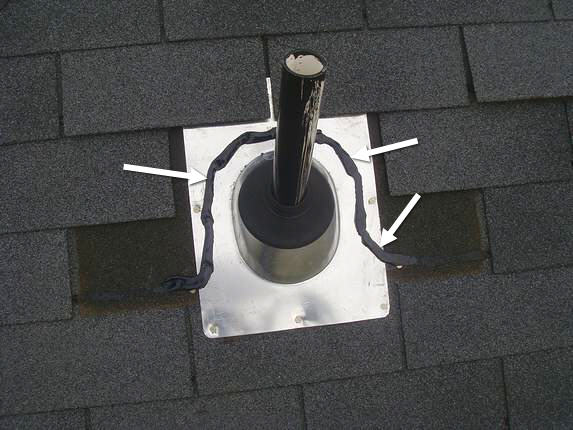 A healthy bead of Geocel Tripolymer Sealant during application eliminates leaks from "wind driven rain."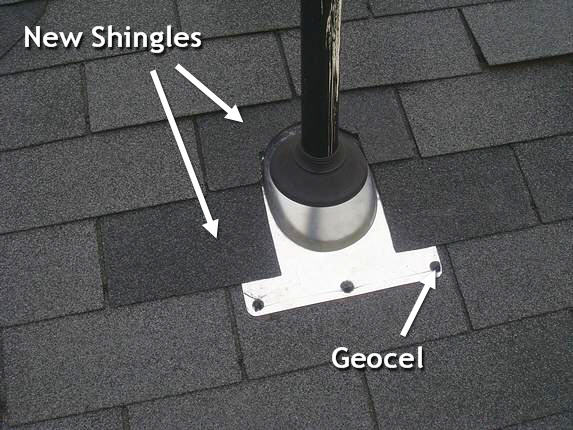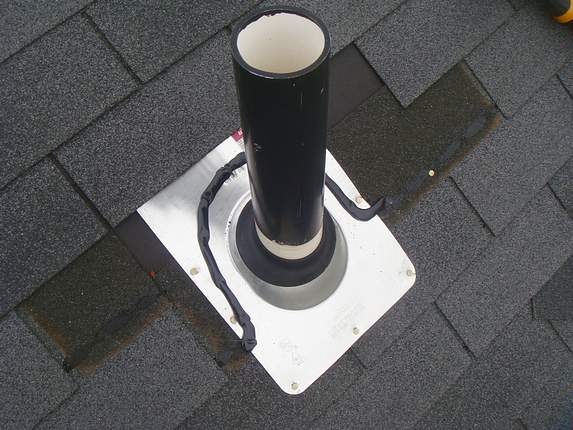 Roofing Pipe collar #2.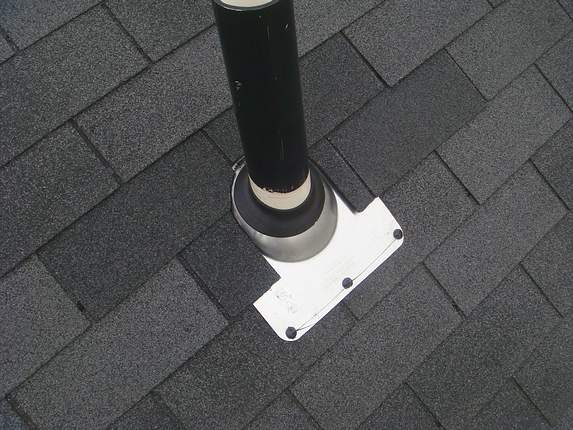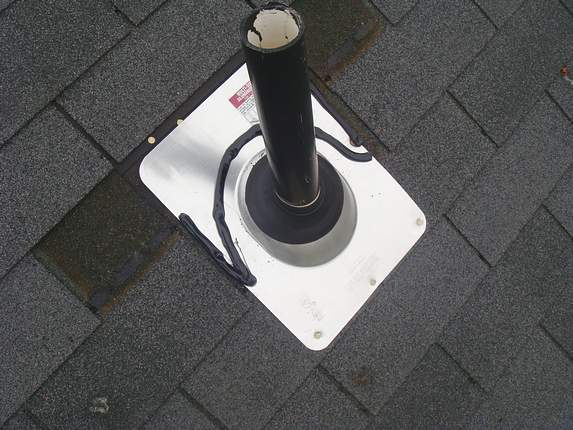 . . . and finally, pipe collar #3.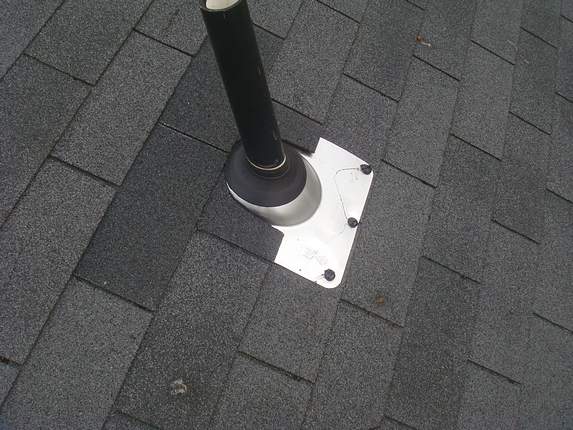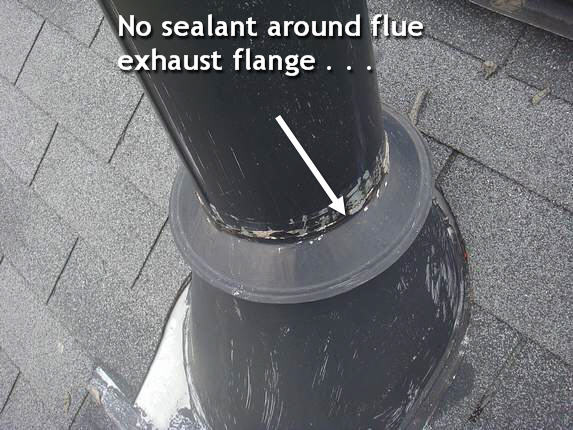 Most of the old sealant has been removed and will be resealed with new Geocel. Geocel Tripolymer Sealant is so durable that it normally lasts the life of the roof! We don't use the cheap stuff you find at the "big box" stores.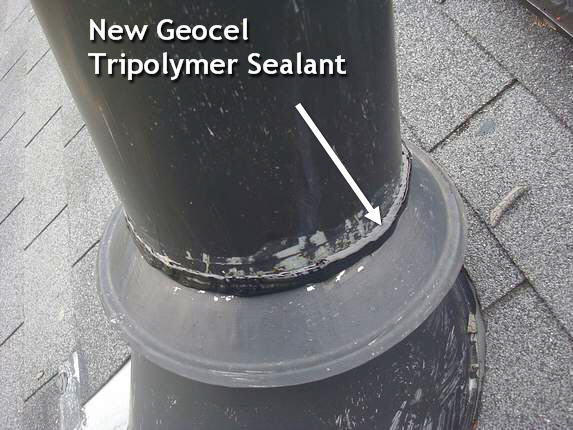 Now that's the way a bead of sealant should look!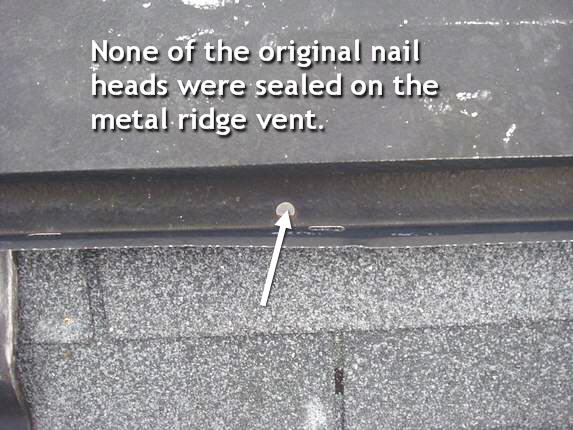 It's very important to seal exposed nail heads with Geocel to eliminate rust and leaks. Most newer homes use OSB (oriented strand board) as the underlayment, which is more sensative to moisture than traditional plywood . . . making this step critical. We also reattached loose or questionable sections with screws where necessary -- usually averaging approximately 25% of the entire length of a normal ridge vent on an average home.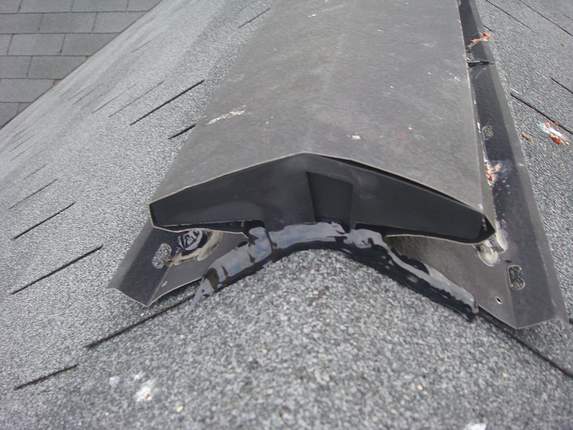 This is how the new end plugs should look after proper installation -- caulked at the base to seal against wind driven rain -- four (4) different ridge vents and eight (8) total end plugs on this repair.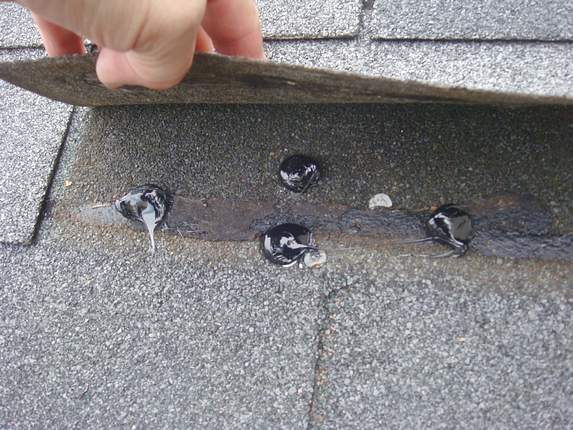 Small spots of Geocel are used to seal the shingles together in cold weather.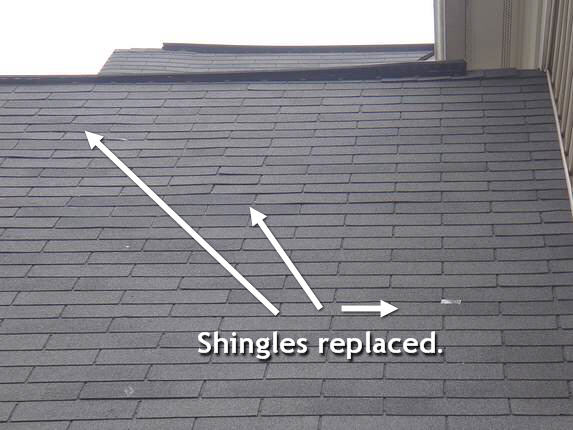 OK, we've successfully completed another $247 Maryland Roof Repair, and have helped gain another satisfied client. To recap, here's the work we perfomed:

Replaced missing shingles in 4 different areas, about 25 shingles total
Sealed approx. fifty (50) shingles that were "flapping"
Replaced three (3) pipe collars with new neoprene/aluminum units
Reattached metal ridge vent system where necessary using galv. screws
Installed missing end plugs in ridge vents, eight (8) total
Sealed approximately 150 linear feet of ridge vent nails, both sides
Sealed two (2) flue vents with Geocel Tripolymer Sealant
Tightened all gutters on home, approx. 200 linear feet
Repaired misc. "nail pops"
Complete clean up, haul away, and used special magnet for nails
Posted before/during/after pictures on a unique web page on our site, emailed link