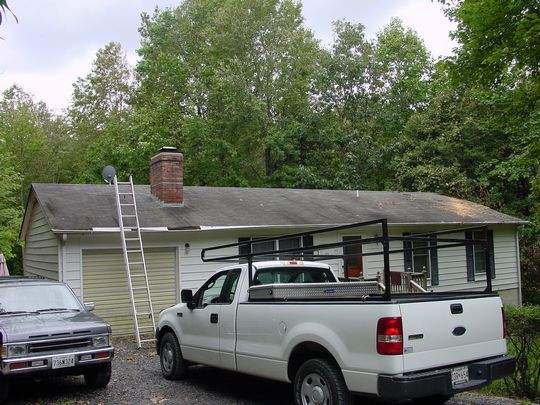 Certainteed Architectural Homestead Slate was the shingle and color these owners picked for their new roof that was what we call "an insurance job". A tree fell and hit the right side of the roof, and we were able to negotiate with the insurance company and get their whole roof covered.
We're really good at dealing with insurance companies. It can really help having an experienced contractor helping you with the insurance claim process . . . like it or not, most homeowners shoot themselves in the foot when they're dealing with adjusters. But it's not really their fault . . . many insurance companies take advantage of homeowners; whether it's intentional or not, I'm not saying. Wink wink.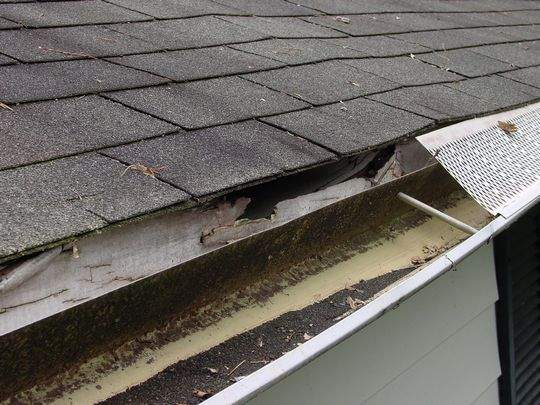 Fascia board problems. We'll take care of them, no problem; and we'll clean and respike the gutter while we're at it . . . and install some gutter guards, too.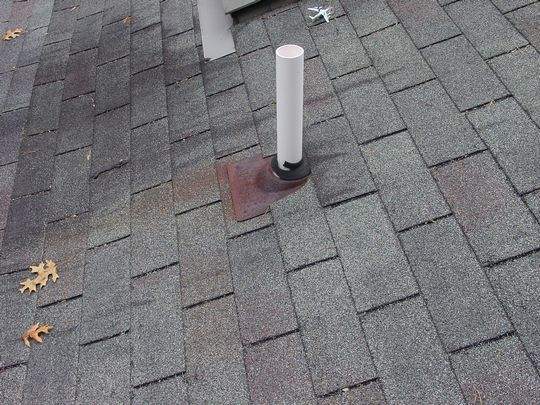 This pipe collar's shot. It's the original and over 15 years old . . .that's why. We will be installing all new neoprene and aluminum units and sealing them against wind driven rain with Geocel Tripolymer Selalant.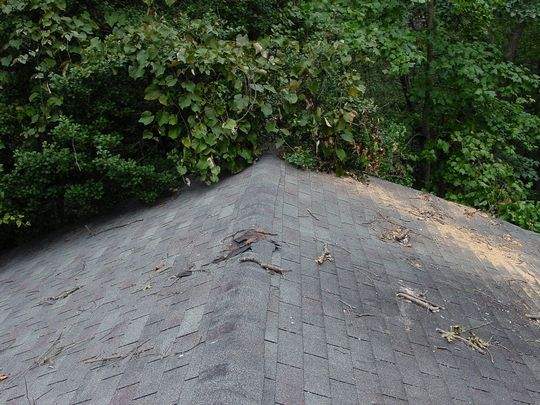 The roof damage is lurking on this side of the house where a huge tree fell and jostled the whole house. Doesn't look that bad from this angle, does it?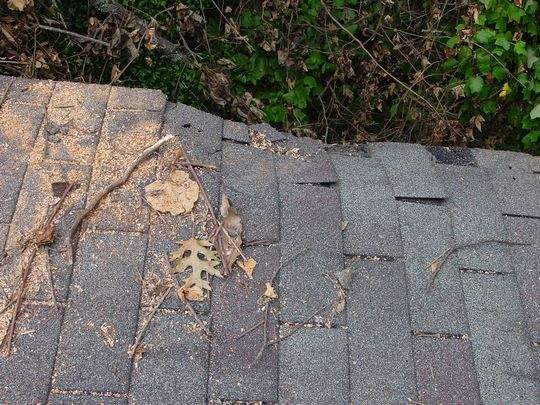 At first glance it would appear that this was just minor damage . . . but we know we'll probably find more when we start taking the roof apart.

There's the culprit, hiding down there in the bushes. It was a pretty big tree and lucky it came down on a structurally strong part of the house . . .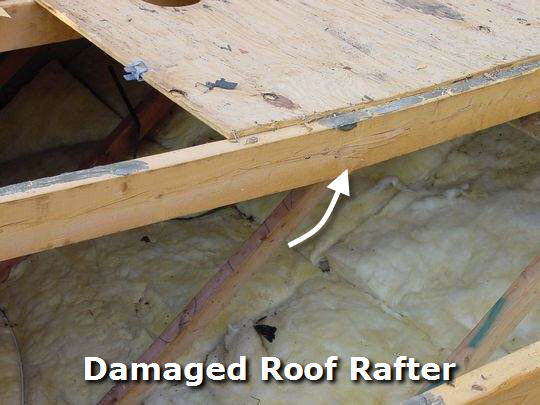 After tearing the roof off, and inspecting all of the framing, it's amazing that the damage was limited to this one small area. It's also amazing that this "prefab" house with 2 x 4 roof rafters held up so well.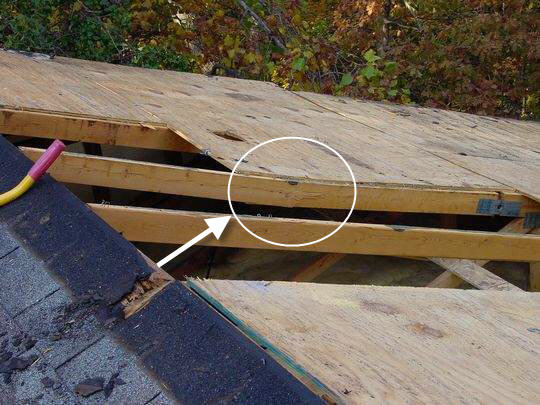 The hinge you see on the 2 x 4 rafter is a dead giveaway that this house was prefabricated. No problem, we'll fix 'er up and she'll be better than new.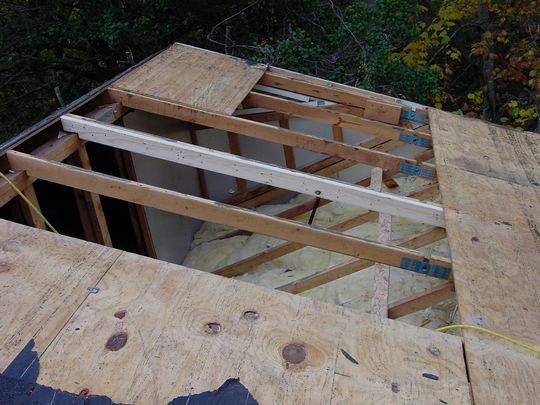 . . . so we "sistered" a new piece of lumber to the damaged rafter and made sure that it was supported properly on the load bearing points. Next, we ran a string line across the surface of the roof to make sure the repair work was perfect. It passed with flying colors! Next, we'll install the new plywood underlayment and waterproof the house as quickly as possible.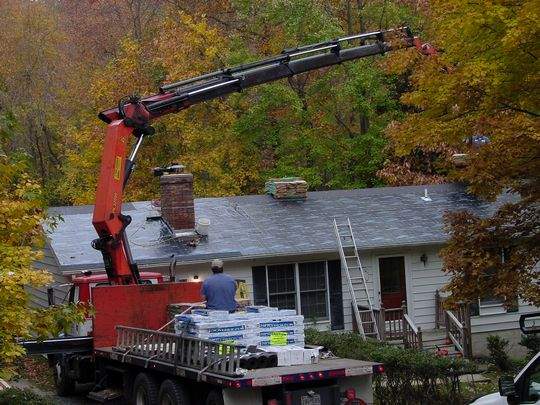 Once we get the house waterproofed with Berger UDL synthetic underlayment, our crane conveniently (and safely!) loads the shingles on the roof. Nice!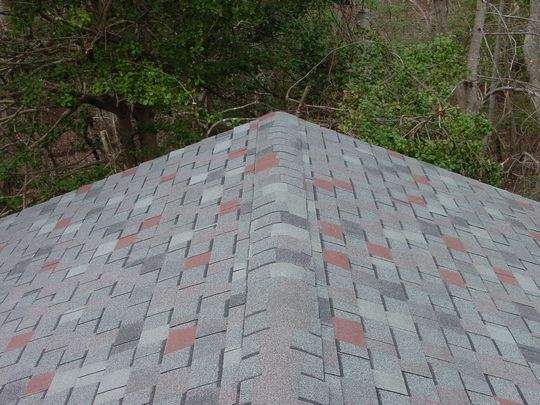 This is the end result. Notice how straight the shingles appear . . .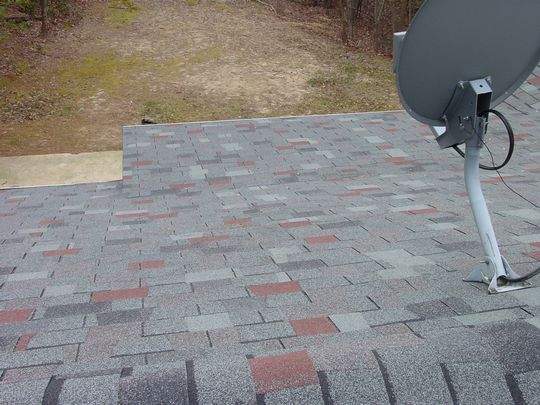 . . . and of course, the new roof is perfectly flat and straight. See that satellite dish? We replace the unit in exactly the same place as it was before we started -- so no interruption of satellite service is experienced.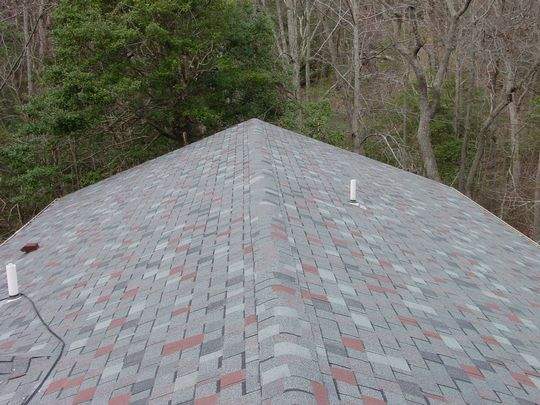 New pipe collars, fan vents, ridge caps; everything looks great!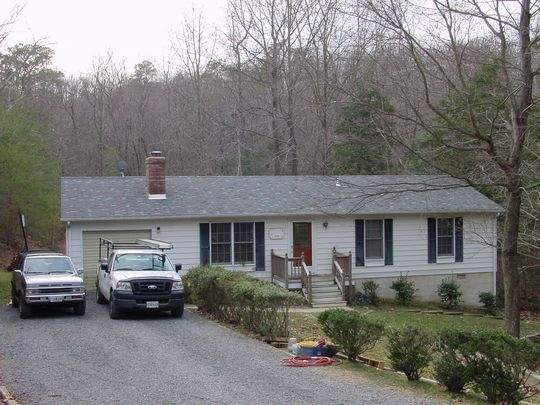 And the home looks so much better with this 30 year roof! All for just the cost of the insurance deductible! Contact us to see how we can help with YOUR insurance claim.