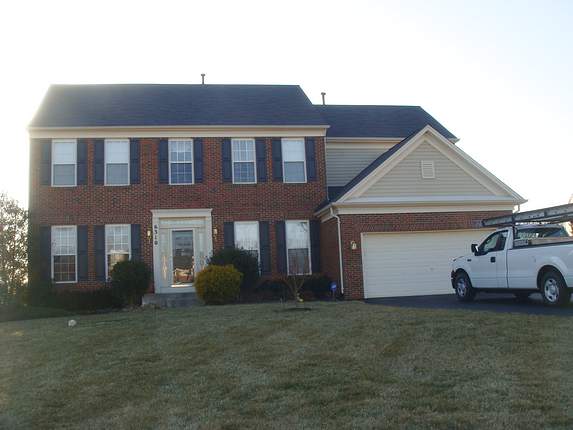 Md Roof Repair Gaithersburg-Laytonsville Maryland: Missing shingles, bad pipe collars, leaky metal ridge vents, rake trim missing . . . you name it, this house has got it! No problem, we'll fix 'em right up!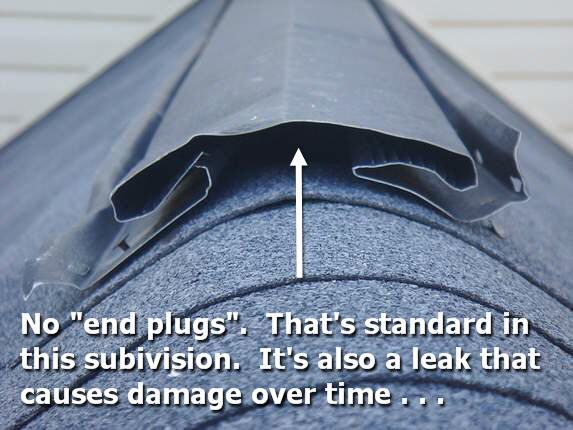 First, no rubber end plugs. That's almost standard. The builder just never installs them, so we carry hundreds of metal ridge vent end plugs on the truck. Just the way it is, folks . . .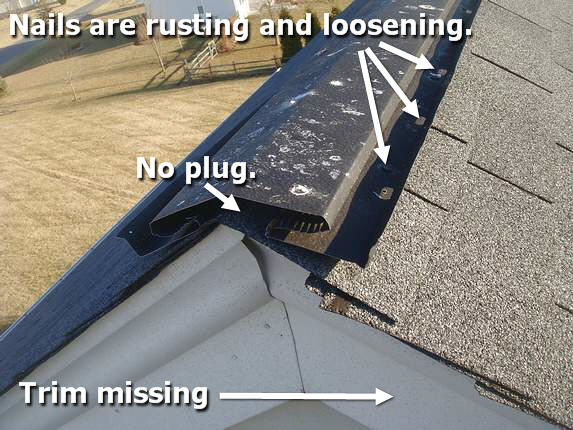 . . . and the next thing, if you have metal ridge vents, and they are five years old or more, then you are going to have leaks. This is what happens: the builder's roofing contractor nails the vents on with a pneumatic roof nailer (which isn't the best thing to do) and they slowly work their way out -- causing leaks. It wouldn't be so bad, except the ridge vent has a "gutter" that directs all of the water towards the nail holes . . . making sure all of the water goes into the attic. Nice!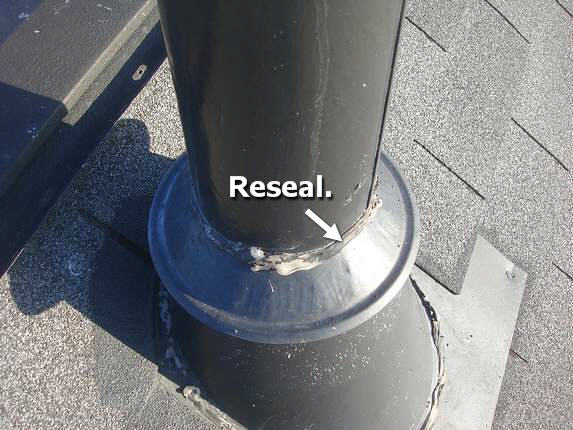 Of course, there's the flashing diverter on the heater exhaust. Some call it the "umbrella" flashing. Just beneath that is a big gap -- so big you can see light in the attic -- and the job of this flashing is to divert water away from that. So if it's not caulked, or caulked poorly, water enters the house. We seal all of these with Geocel Tripolymer Sealant; no exceptions! Geocel will last longer than this roof will. It's the highest quality . . . the best!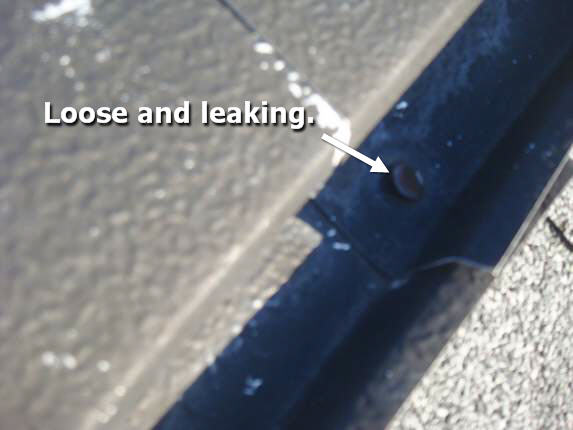 Here's one of those roofing nails I was talking about earlier. We will remove this one since it's on a seam, and prone to leak . . . and replace it with a stainless steel screw . . . AFTER we seal between the two sections of ridge vent. Problem solved!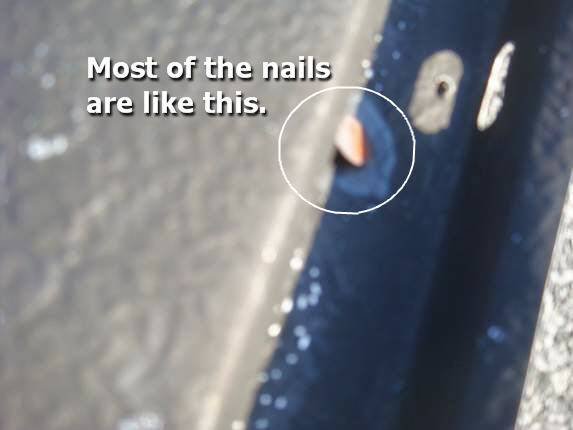 See, this is normal. We'll remove this nail too, install a screw, and seal it.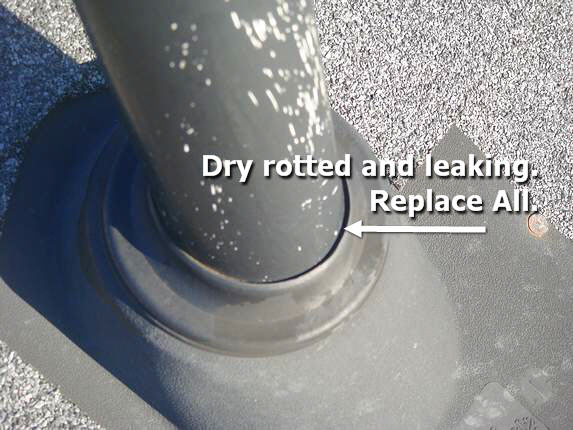 If your pipe collars are seven years old, chances are they're leaking like this one. While we're doing all this other stuff, it's a good time to replace them with upgraded aluminum / neoprene pipe collars.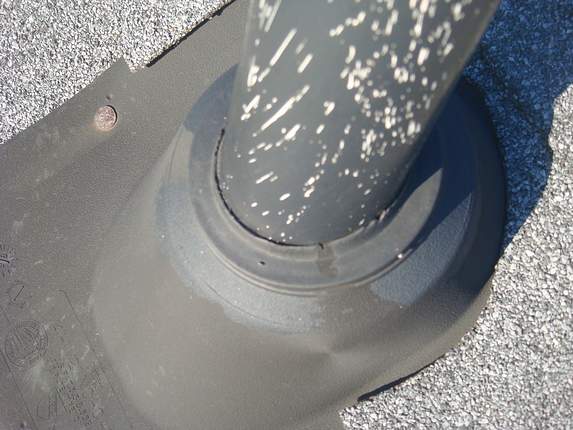 Here is another pipe collar that's leaking. The problem with leaky pipe collars is you don't know that they're leaking until they get bad enough to pour water right on the drywall ceiling of your bathroom. Until then they are just keeping your insulation wet enough to grow a good crop of mold in your attic! Get pipe collars replaced every seven years or so . . .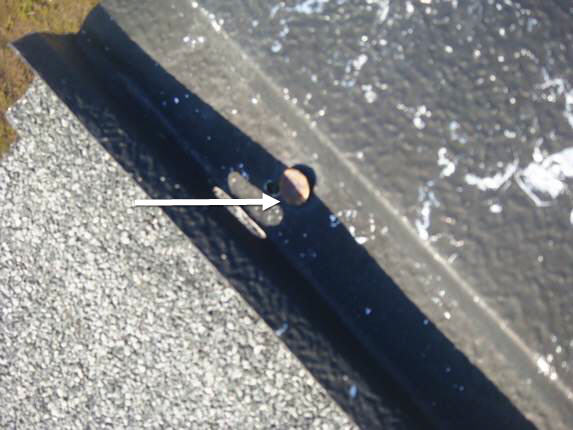 Yep, there's another one of those leaky metal ridge vent nails . . .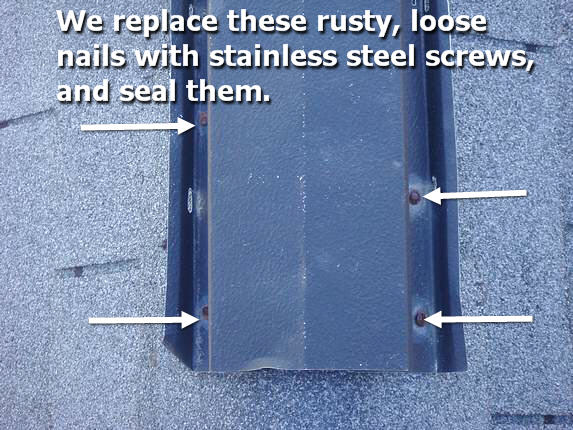 . . . and even a few more of 'em. Betcha that the vent doesn't have an end plug in it either . . .
During and After Pictures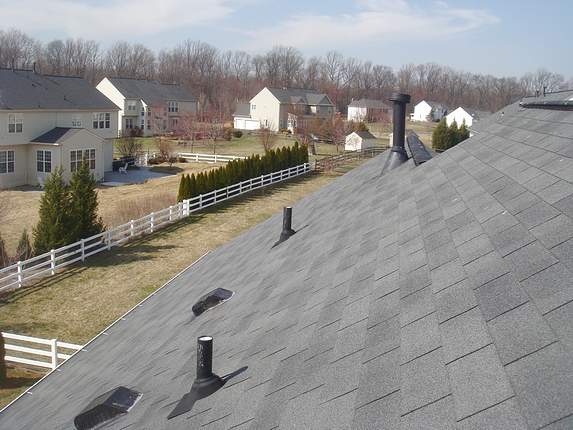 OK, we're getting started on fixing the pipe collars, ridge vent, and other roof leaks.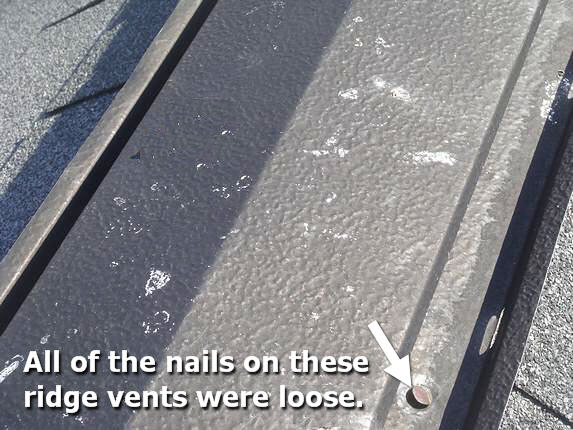 Here's another one of those leaky roofing nails . . .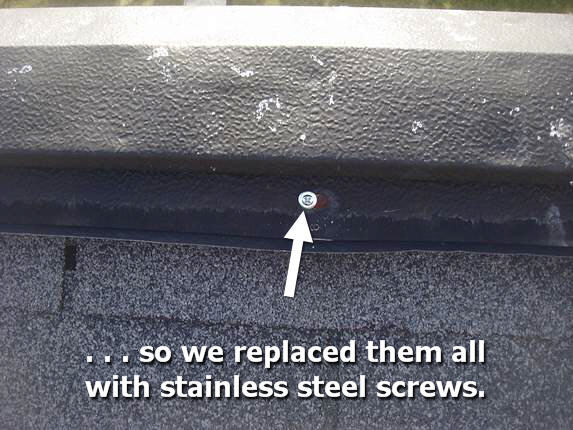 So we'll fix these nails -- forever -- by replacing them with stainless steel screws that will not back out . . . or leak . . . and will keep the metal ridge vent firmly attached to the roof in those high winds.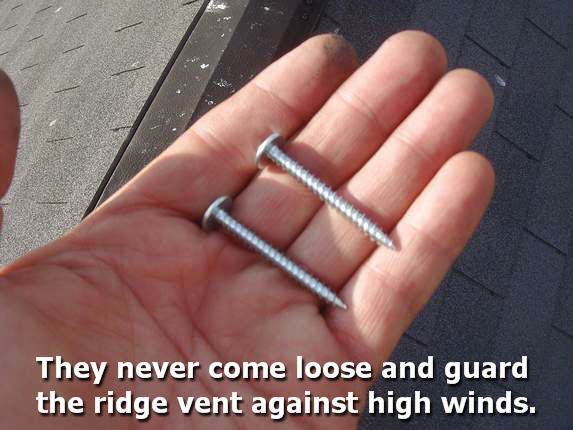 The screws are 1-5/8 inches long and will keep your ridge vent on in those high winds! Plus, they're easy to seal with Geocel Tripolymer Sealant and will help keep the rain out of your attic!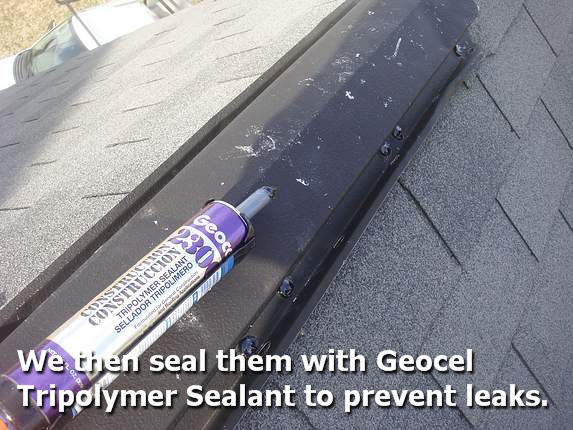 Yes, Geocel is the best. It's so good, it will outlast the roof. If you go to Home Depot and get roofing cement in a caulk tube, it will last about one or two years . . . maybe.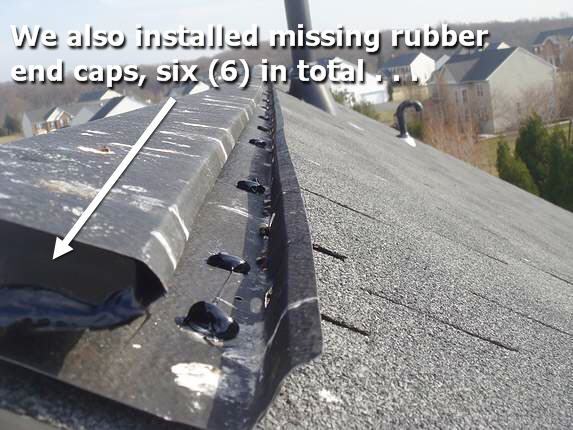 Here's what a properly attached, plugged, and sealed metal ridge vent repair looks likd from the roof.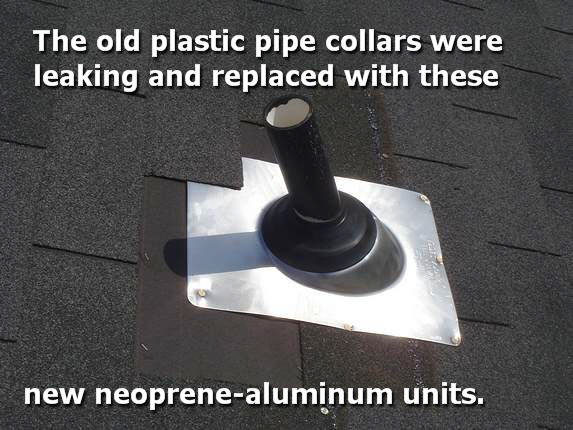 The neoprene / aluminum pipe collars outlast the plastic type by a longshot and are the only type that we use.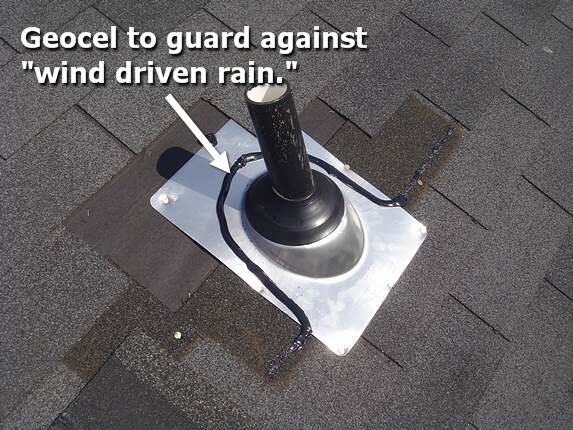 In our Maryland Roofing Service area, we get a lot of wind driven rain . . . and that bead of Geocel you see above prevents high pressure winds from blowing rain past the slick flashing. Some of the "old timers" say it isn't necessary, but we KNOW it is good insurance. Anything to keep the weather out of your house is a good thing.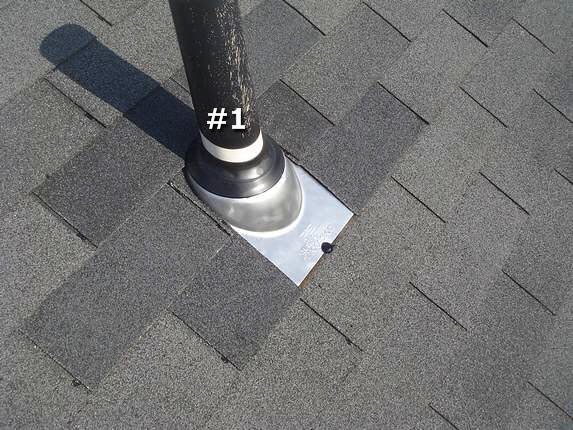 This is what a professionally installed pipe collar looks like when it's done. The replacement shingles around the vent are also sealed down with Geocel.

Pipe collar #2 is completed . . .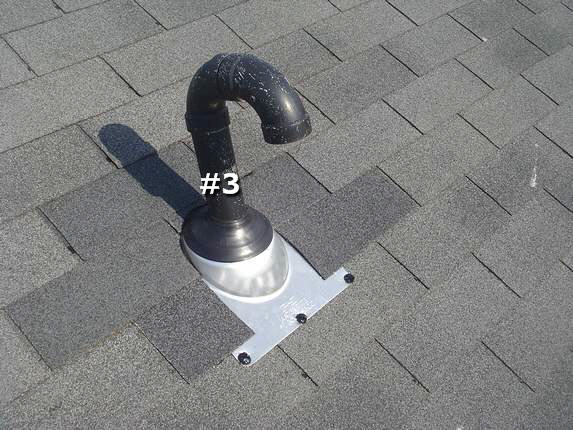 . . . and pipe collar #3. Of course on this one we needed to cut the upside down "trap" off the vent pipe . . . and then reinstall it . . . no problem of course. These are often used on Radon Pump Systems to keep rainwater out of the air pump.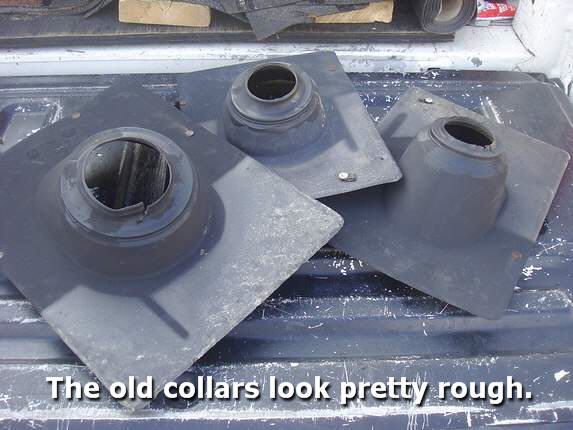 Say goodbye to the old, leaky, plastic pipe collar units. Good riddance . . .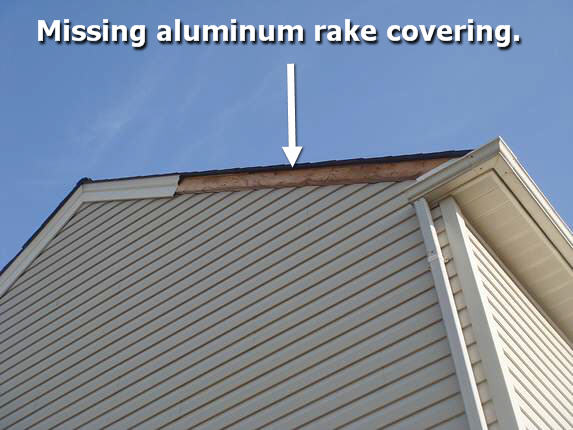 Sometimes we'll find that custom aluminum rake covers have been blown off. No need calling a "siding guy" that may charge you an-arm-and-a-leg for this custom work -- we are equipped with a fancy sheet metal brake that can handle the job while we're there . . . and at a great price!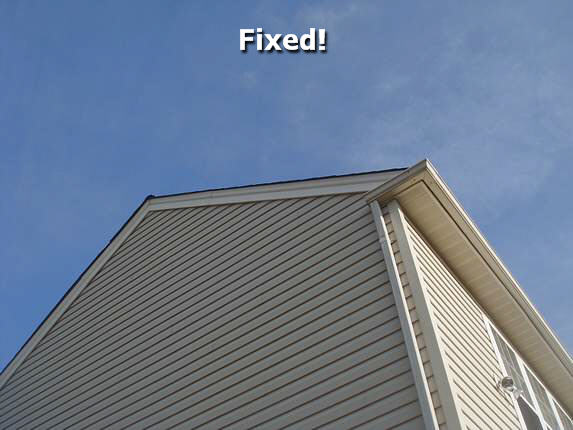 Yes, the custom aluminum rake covering is beautiful again . . .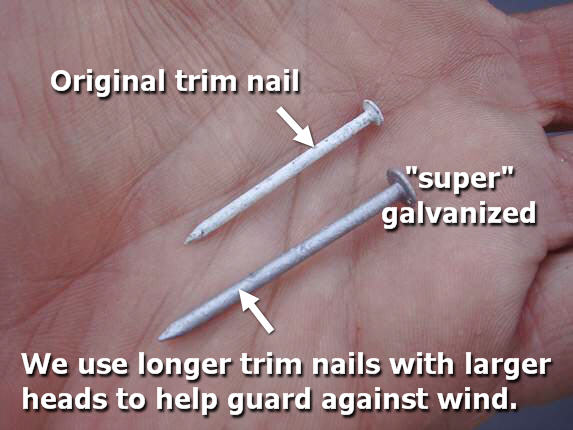 . . . and we use a slightly larger nail with greater holding power so the wind is less likely to pull the new rake covering off again.
OK, so that's it. Another Md Roof Repair completed; and it's on to the next one! Thanks for stopping by . . .