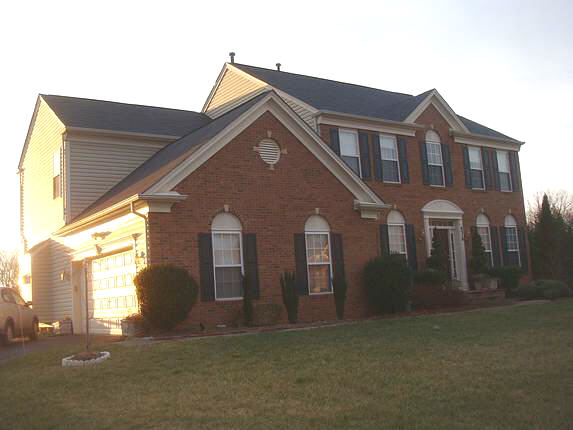 $247 Maryland Roof Repair Laytonsville, Md: This home in the Hoover Farm Subdivision had more shingles missing than any two put together so far. You'll be amazed at how many were taken by the wind; and almost all of it can be attributed to improper nailing by the builder's roofer . . .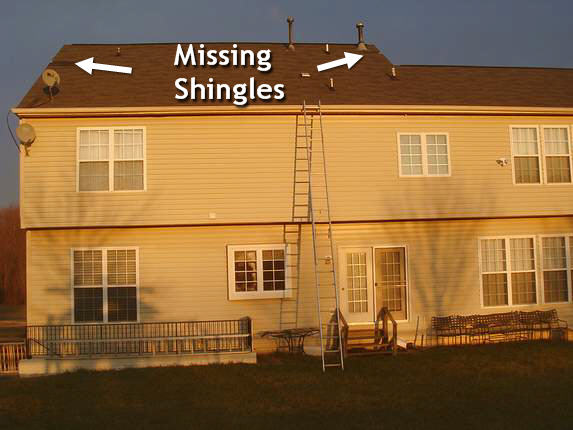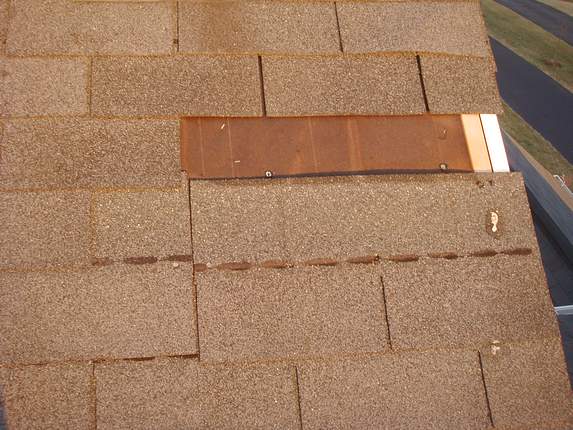 As you can see, the existing nails were blown clear through the shingles . . .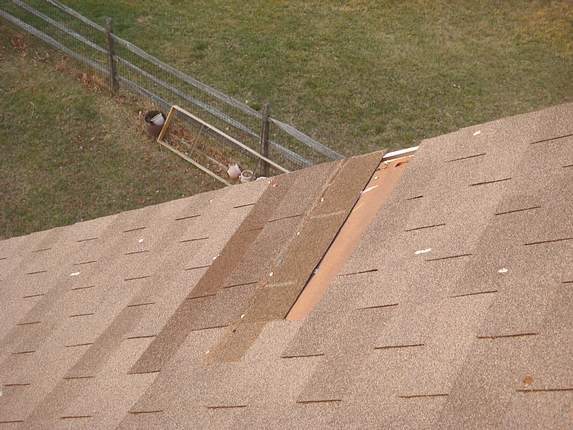 Here are a couple more wind blown shingles.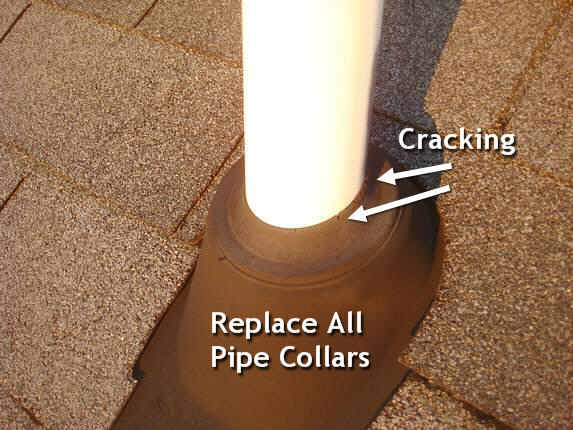 Of course, all the pipe collars were cracked and leaking, just like all of the others in the neighborhood.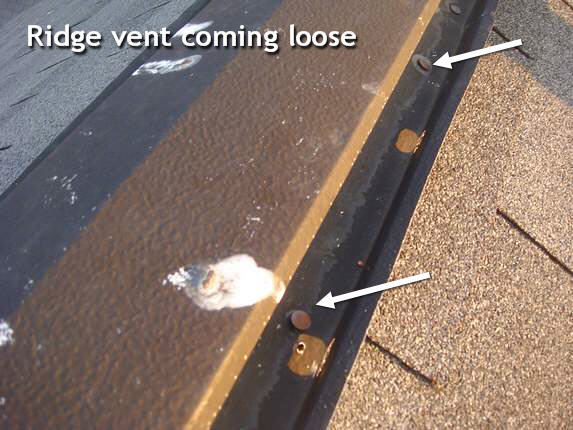 To be consistent, all of the ridge vent nails were loose and the metal ridge vents were all loose as well.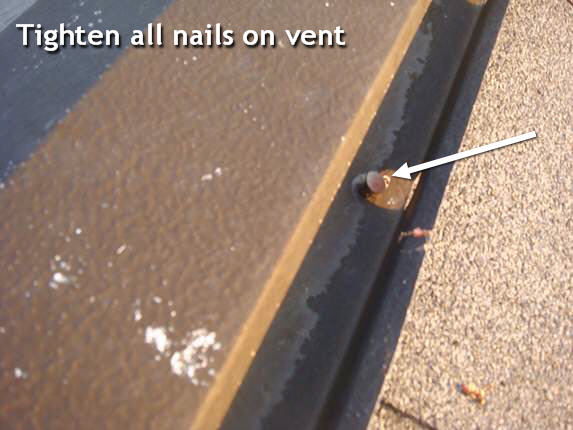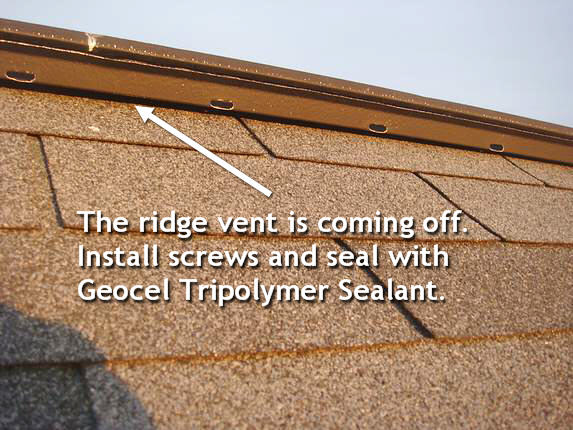 In fact, the ridge vents were so loose that there was at least a 1/2" gap under almost the entire length of the vent. The ridge vent was leaking "big time", for sure.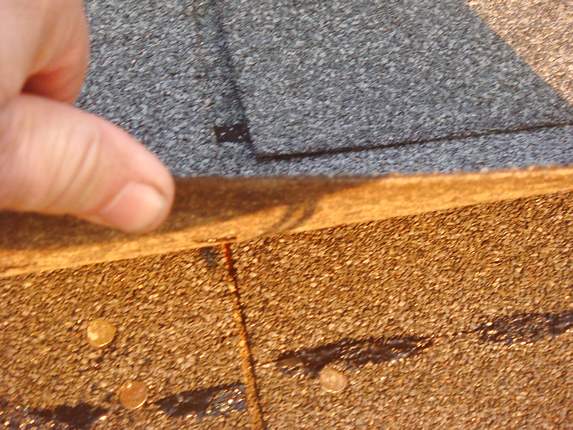 Most of the nails were either blown through, crooked, or misplaced . . .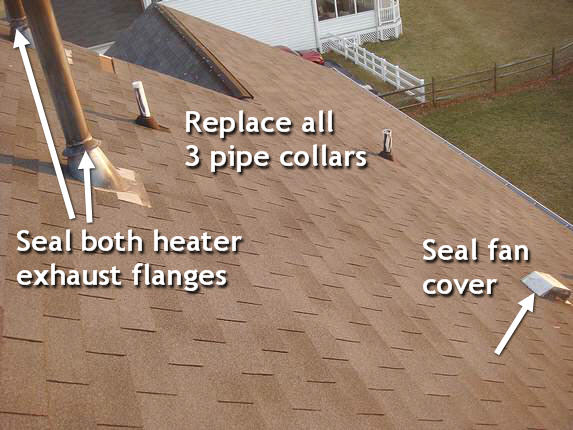 New pipe collars, sealed heater diverter flanges, fan covers . . . everything needed repair.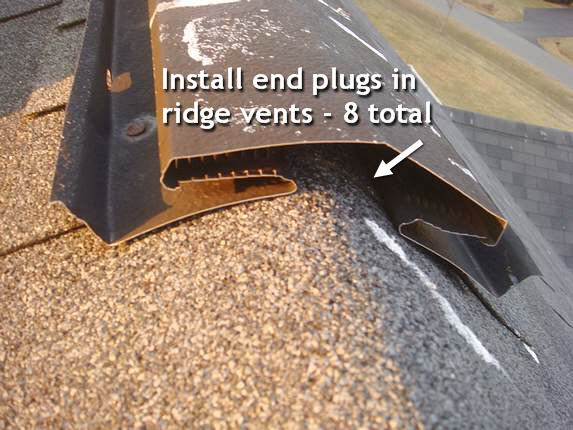 No end plugs in the ridge vent . . . not just here . . .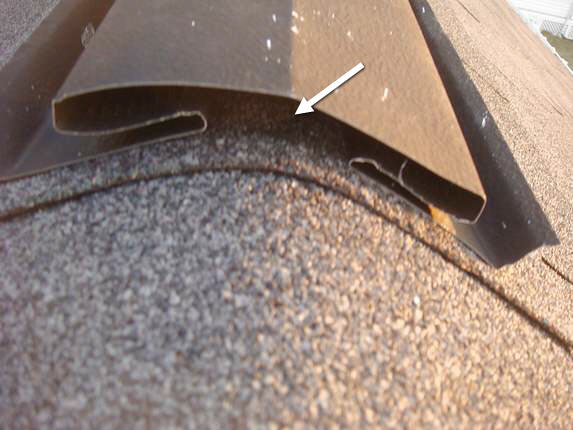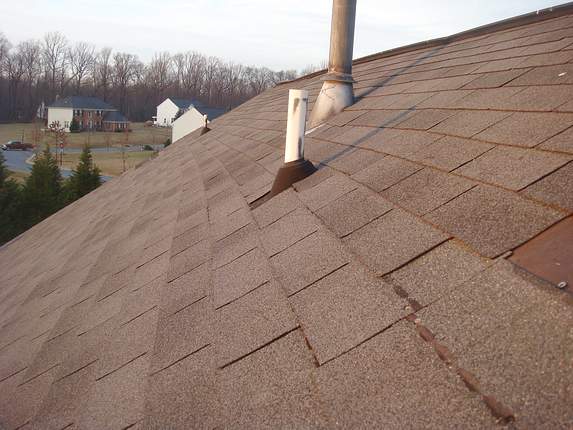 . . . but on this one as well.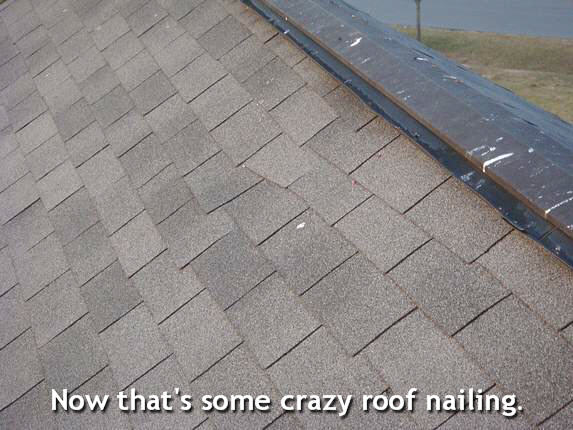 This roofer might have been the worst I've seen in some time. I just can't imagine what would cause that type of workmanship. Any ideas? Wow.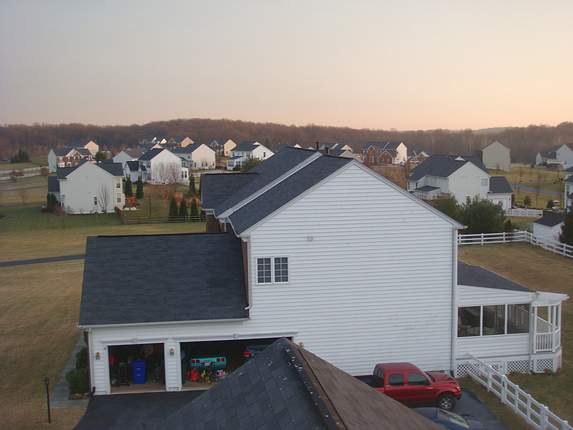 Here's a view of the Hoover Farm subdivision. You can see that there is nothing to stop that wind from the mountains to the west.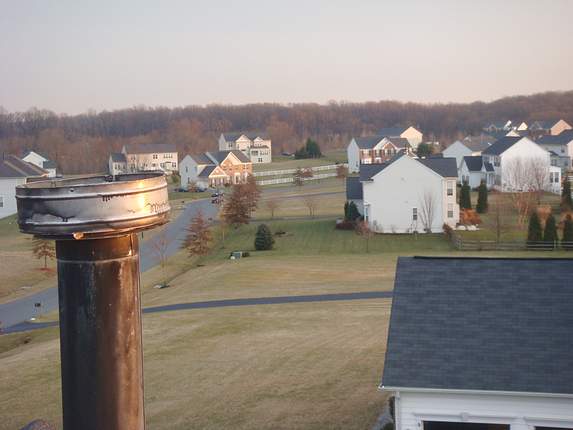 . . . then, while we were getting ready to tackle the damage from the first round of winds, an even worse "second storm" came through, causing even more damage.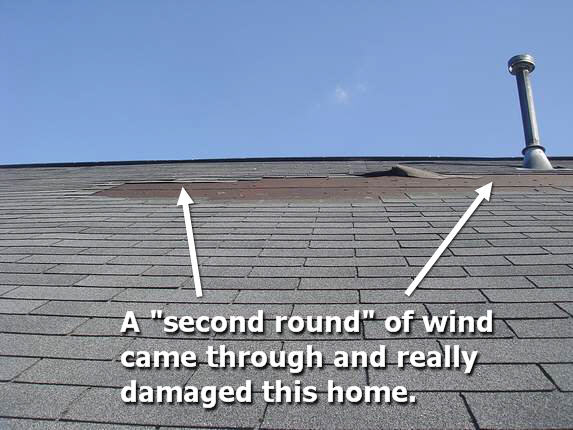 The new winds really picked up some shingles and threw them around the neighborhood . . .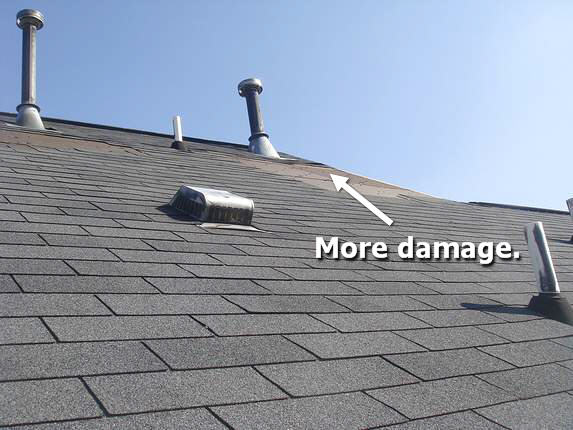 Certainteed XT25 3-tab shingles were flying everywhere . . .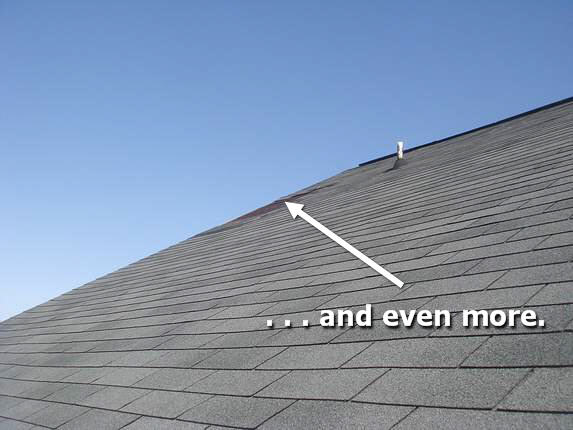 The wind just peeled the poorly nailed shingles off like paper.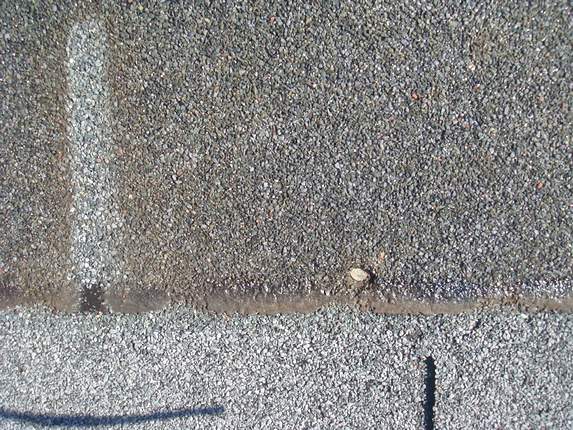 . . . and it's mostly because the quality of the nailing; like this . . .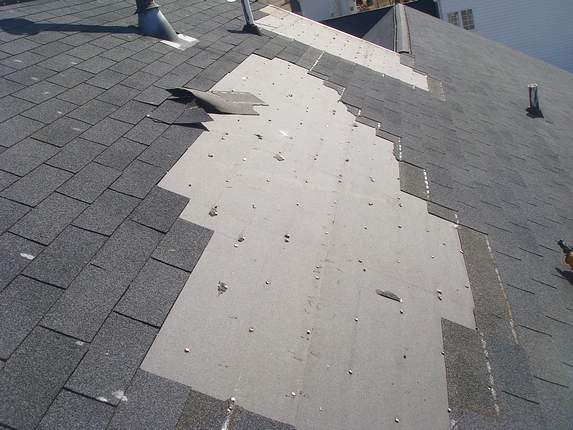 So we ended up with big, gaping bare spots on the roof deck like "this." Notice that the nails remained stuck in the roof; just proving that they were nailed completely through the shingles.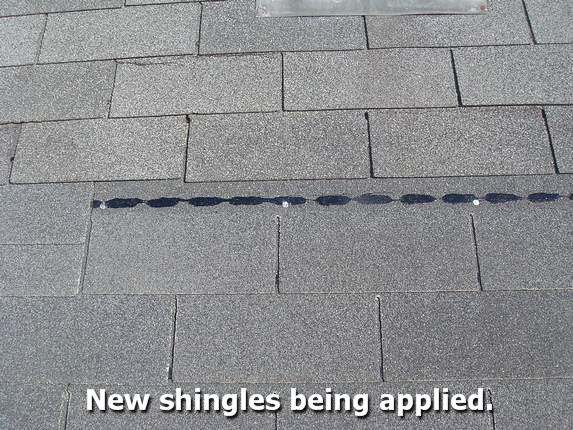 OK, now that the nails have been cleaned away, it's time for some serious shingle application. These Certainteed XT25 Moire Black shingles match the old Certainteed's almost exactly.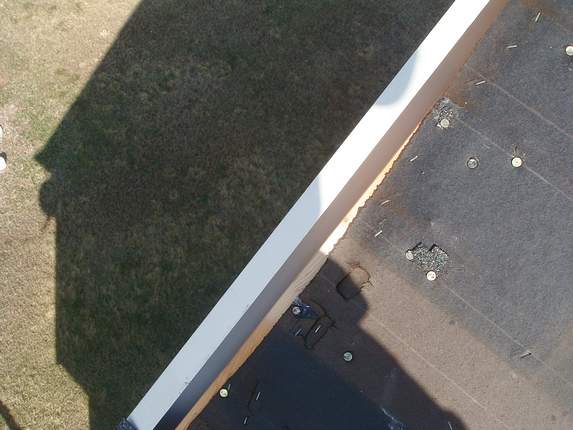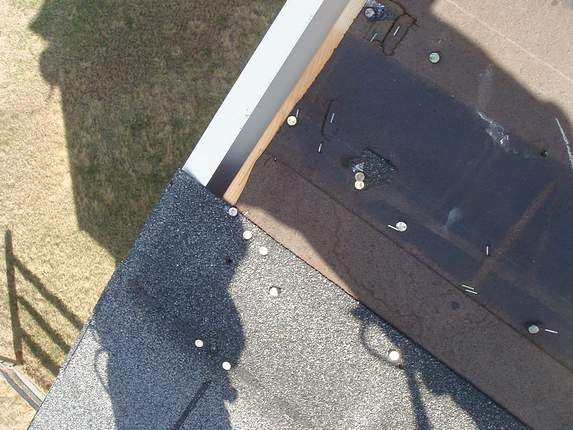 Looks like one of the roofers went "wild" with the pneumatic roofing nailer.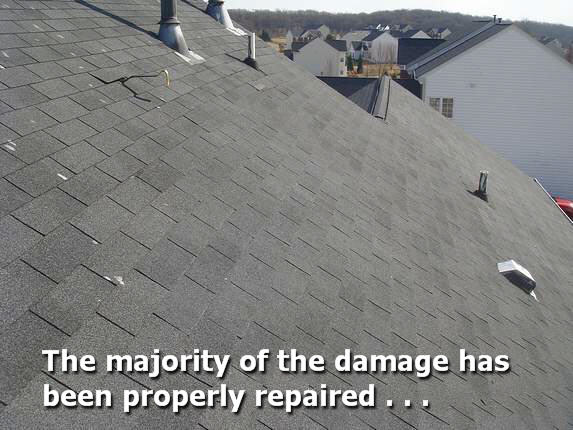 Well, most of the damaged roofing has been replaced, nailed properly, and sealed with Geocel Tripolymer Sealant so they will NOT blow off again.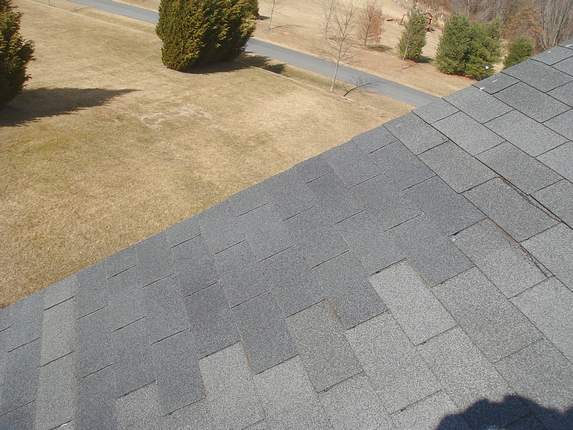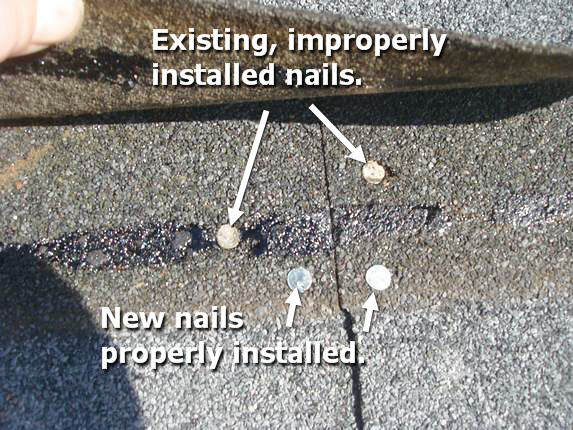 Here is just another example of how poor the nailing pattern of the first roofer was . . . and those were his good ones!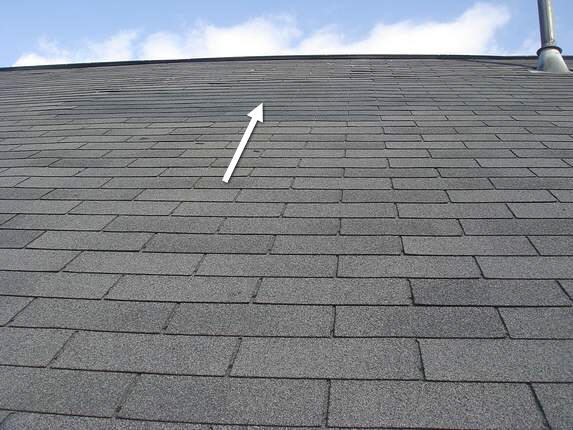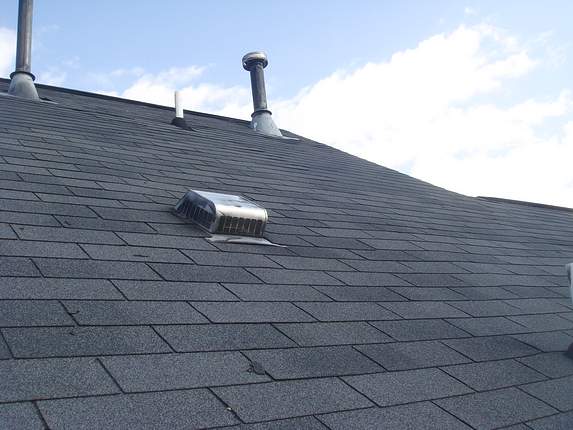 Yep, the new shingles are properly nailed in place, the fan vent and umbrella flashings are sealed, and the new pipe collars have been installed. Looks like we've done it again.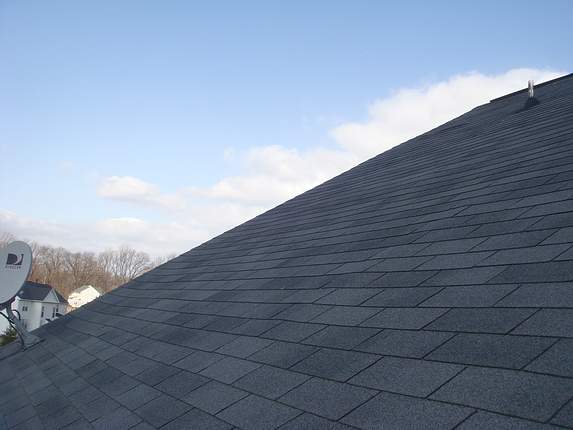 So we have another successful $247 Md Roof Repair under our belts, and we're off to the next homeowner that needs our help . . .