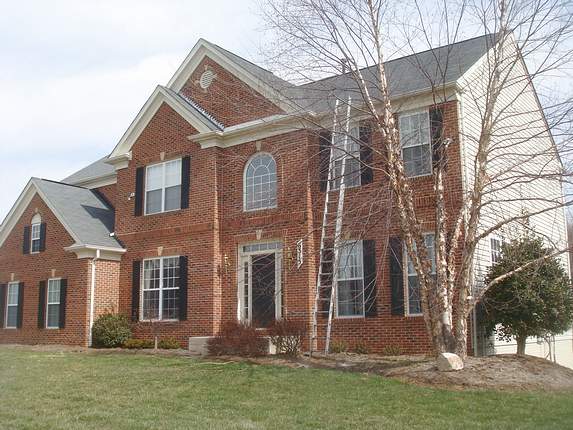 Roof Repair Laytonsville Md: On this Md Roof Repair Inspection we found missing shingles, pipe collar leaks, loose and leaking ridge vents, and some other problems.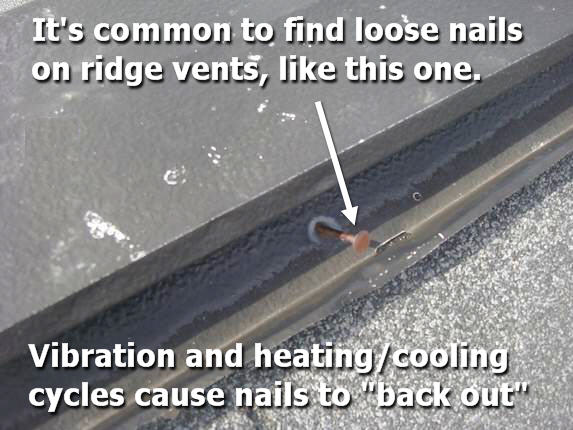 Many nails on the metal ridge vents had backed out and were causing roof leaks. This is a pneumatic roof nail that will be replaced with a stainless steel screw.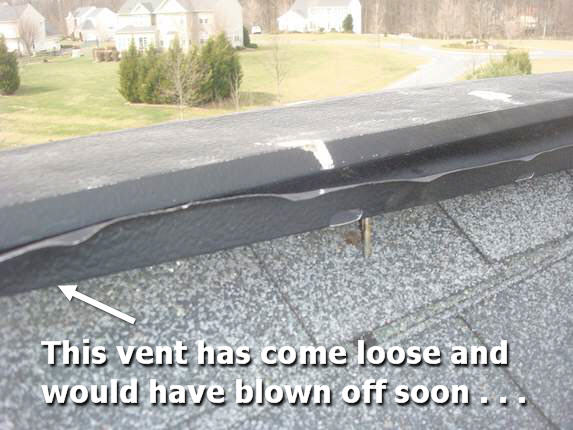 Ouch! This vent has come almost all the way off and will be a giant leak when some wind driven rain shows up!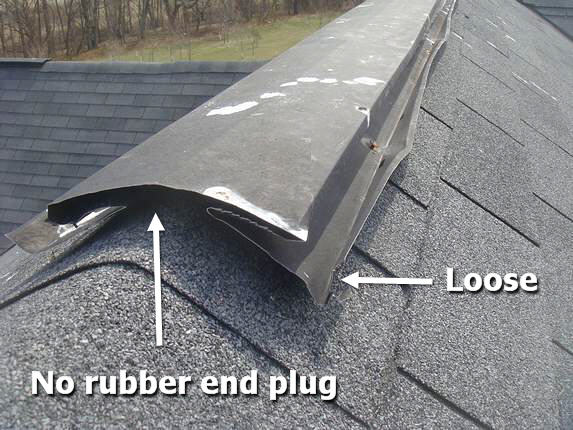 Plus, as always, a big ridge vent leak resulting from a non-existent rubber end plug.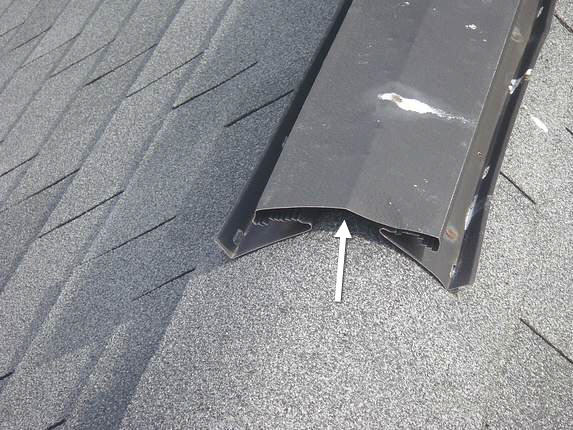 No vent plugs were found in the ten locations that they were required.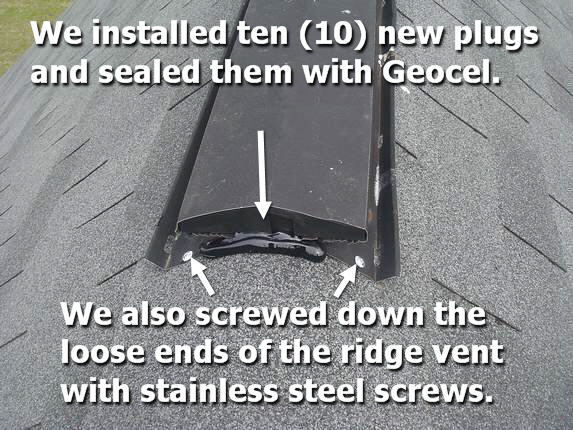 Screws, plugs, and Geocel Tripolymer Sealant will eliminate the present leaks.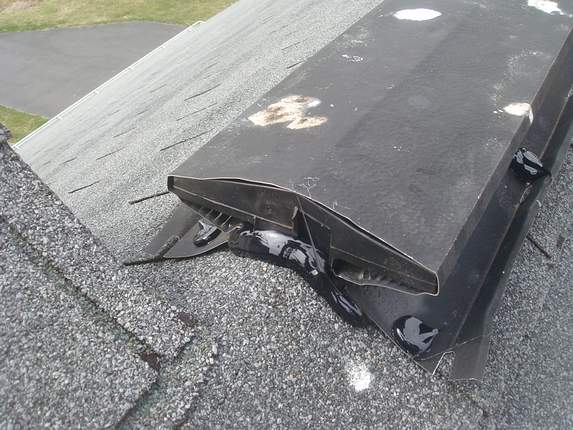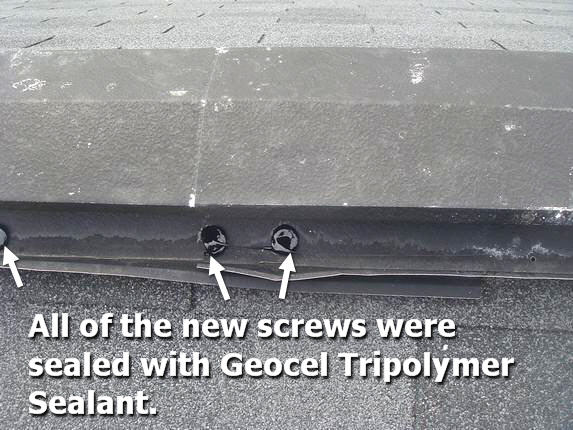 Water leaks can be major leaks at the ridge vent seams because of the natural "gutter effect" of the units. Sealant placed between the overlaps is squeezed by the stainless screws, forming a perfect seal.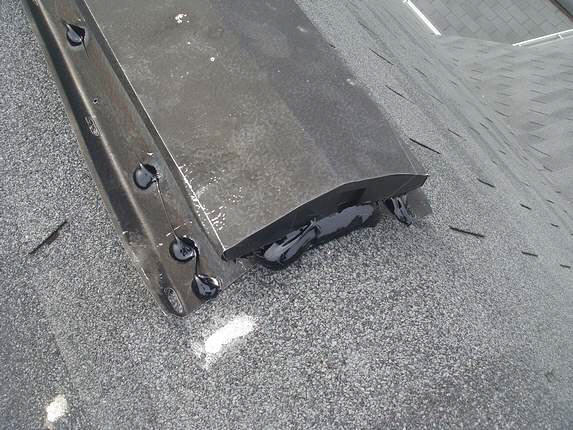 There, now doesn't that ridge vent look better? It's leakproof.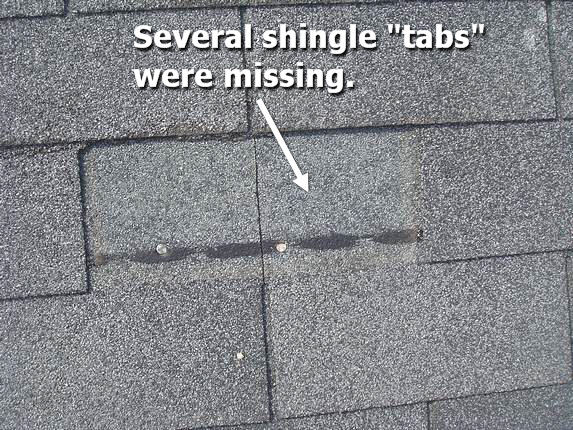 Many Certainteed XT25 Moire Black shingles were blown off, mostly because of the improper nailing of the builder's roofer.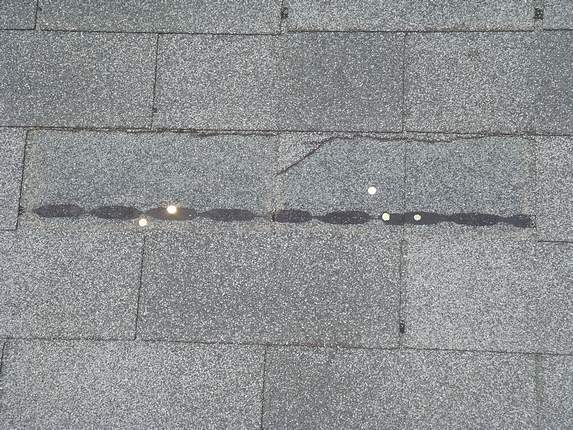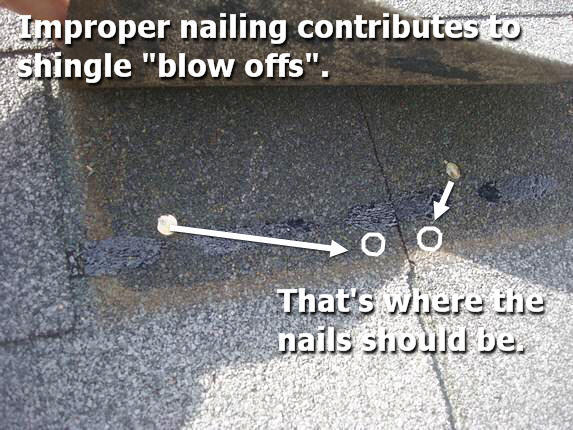 When shingles are improperly nailed, it gives more "leverage" to the wind which is just "dead set" on removing them . . .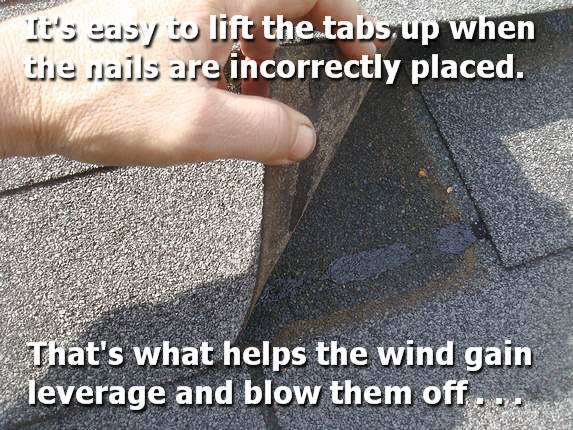 Here's what I mean by the "leverage". The other disadvantage the existing shingles have is that as they age, the sealing strip loses it's effectiveness, making the roofing nails the last protection against "blow offs".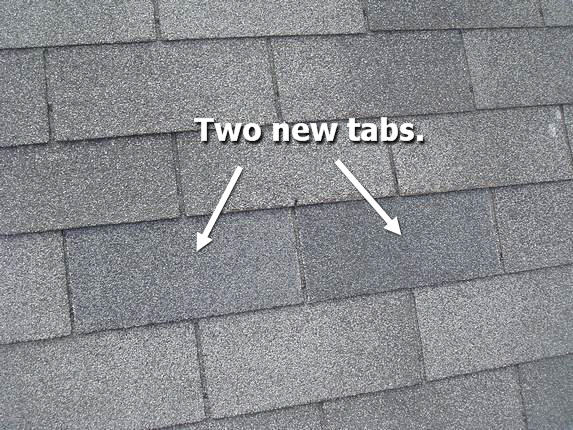 After we properly nail the new replacement shingles in place, we use Geocel Tripolymer Sealant to stick the shingles down permanently because the sealing strips are now ineffective . . .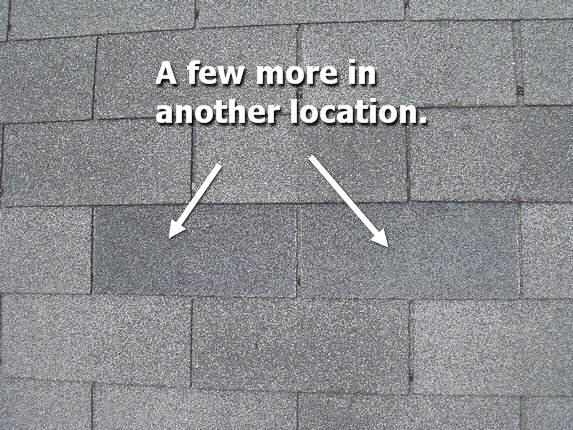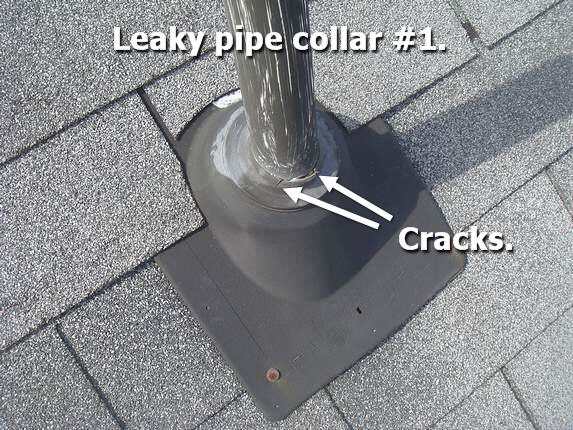 Next, we will address the leaky plastic pipe collars.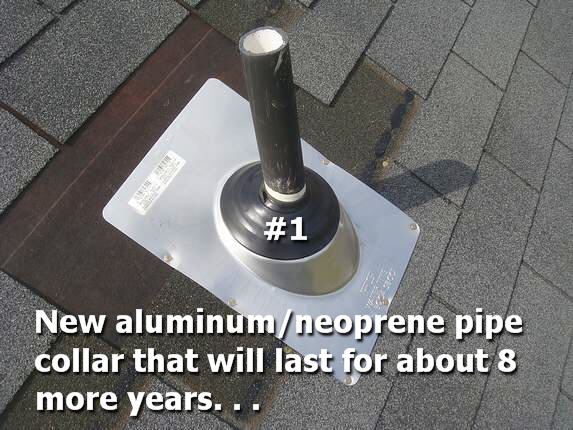 Pipe collars are a prime source for water leaks and must be repaired or replaced aboout every seven years or so . . .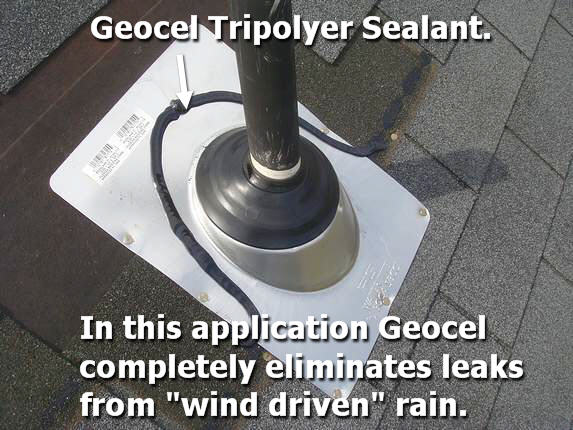 During the replacement stage we can add Geocel around the flange to eliminate wind driven rain leaks.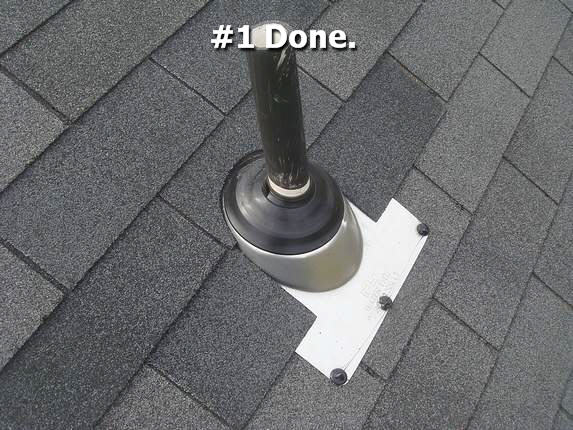 This new aluuminum / neoprence pipe collar has been professionally installed. Nice!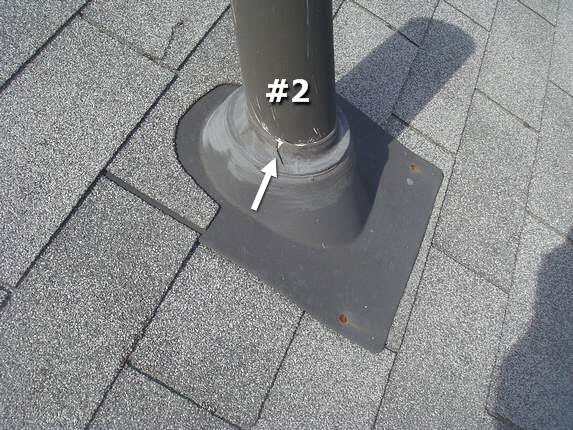 Pipe collar #2 is leaking as well and must be replaced.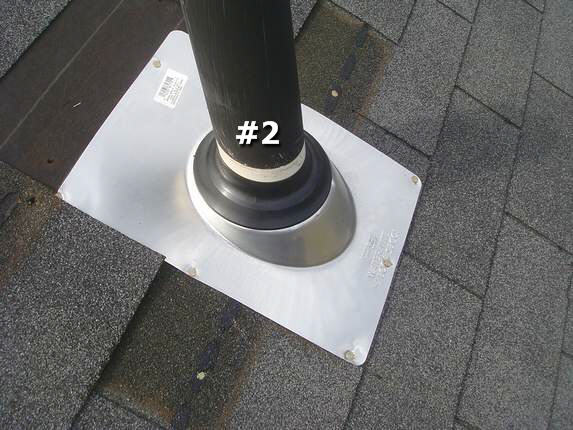 New pipe flange being installed.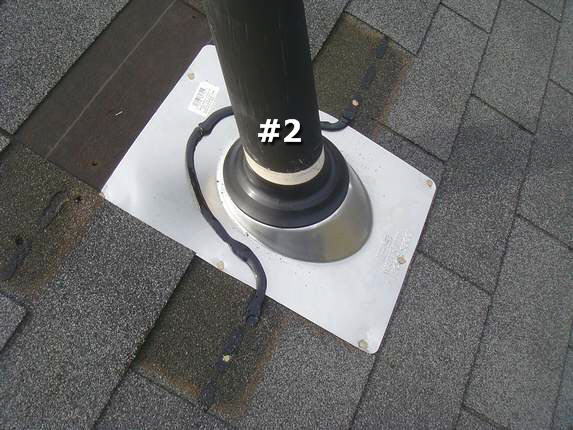 Now, the Geocel for proper wind driven rain protection.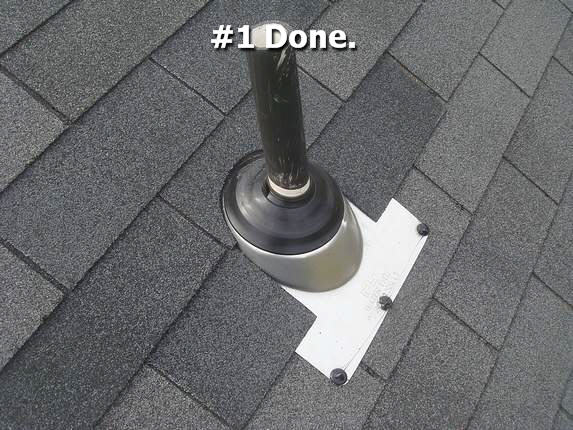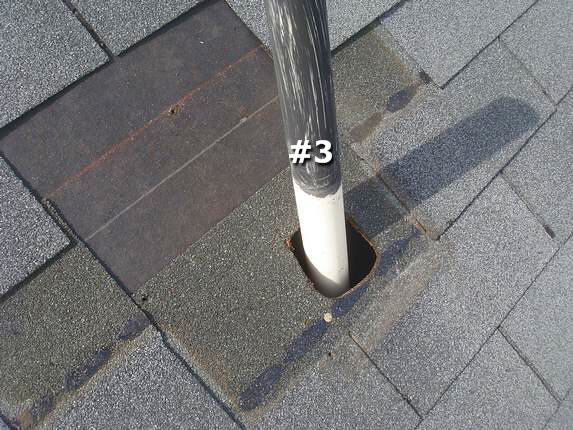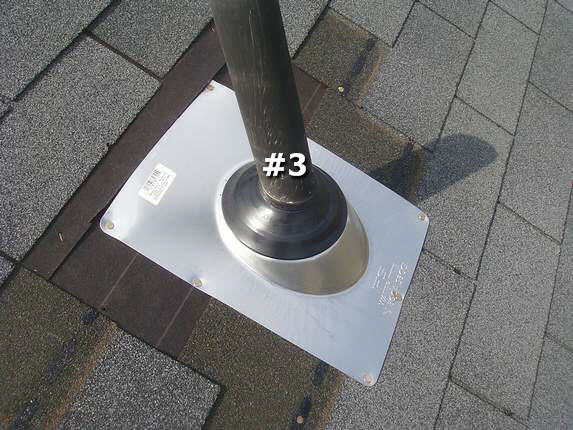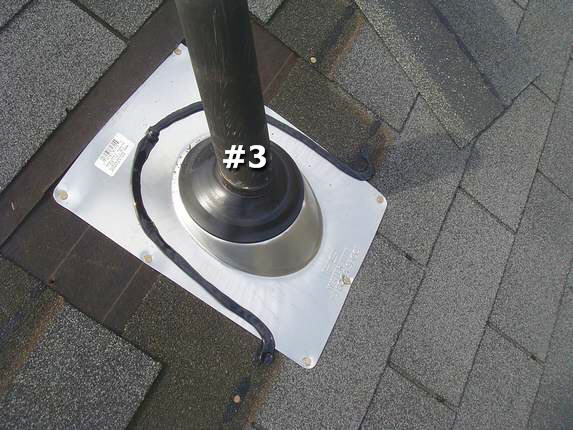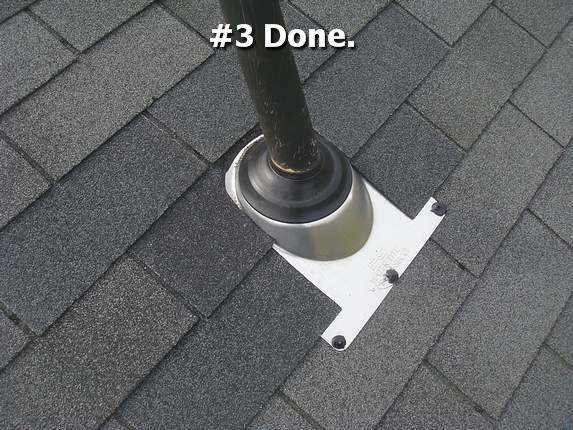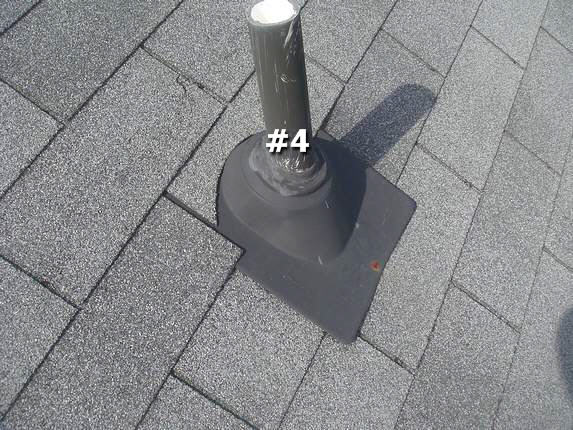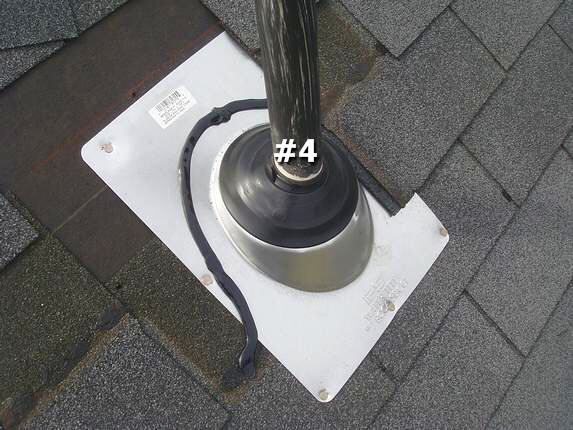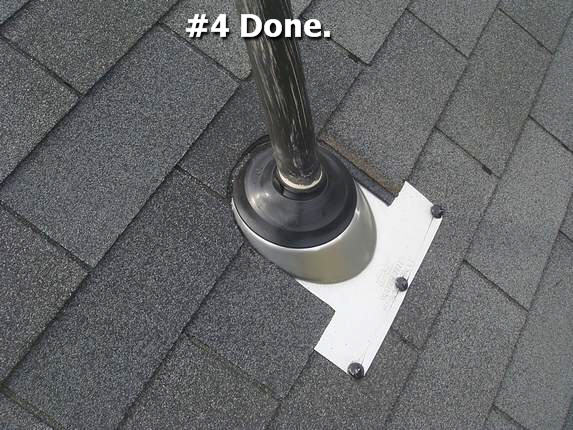 All four (4) pipe collars have now been replaced with new aluminum units . . . sealed against wind driven rain, and integrated with new Certainteed XT25 Moire Black shingles. This system will likely last the life of this roof.

Diverter or "umbrella" flashing is sealed with Geocel to eliminate one additional roof leak . . .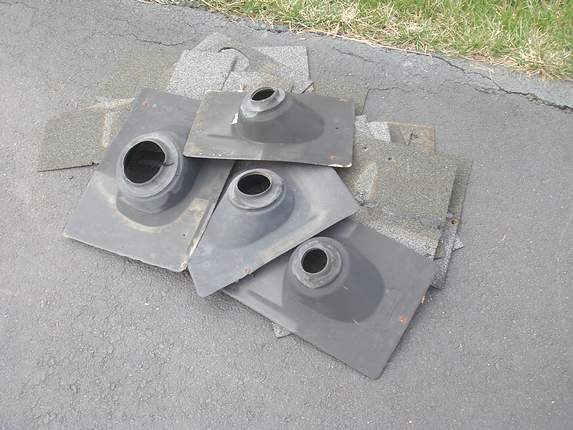 . . . and there's the crusty old plastic pipe collars. Good riddance!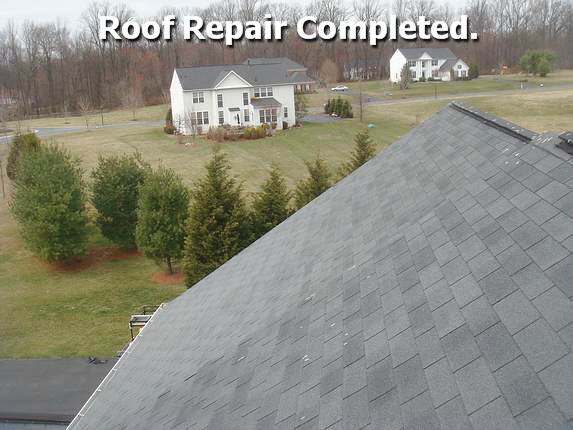 This $247 Roof Repair is complete, and we're on to the next . . . we won't be satisfied until we repair every roof leak in Maryland!