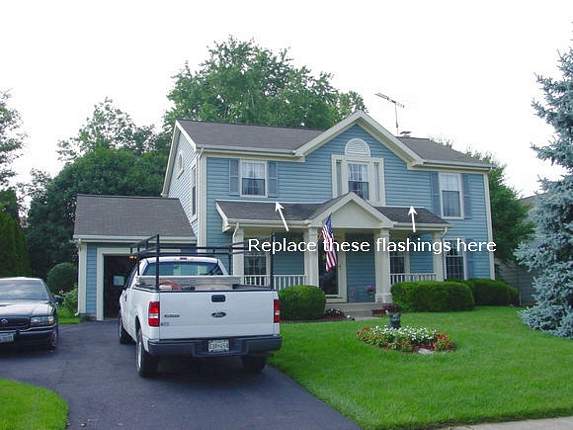 New Roof Silver Spring Maryland: This house is one of the "Ten Percenters" that has an existing roof that is flat enough to roof over. The homeowner will get the same 30 year roof with the same warranty -- and save about 35% -- and today that's a lot!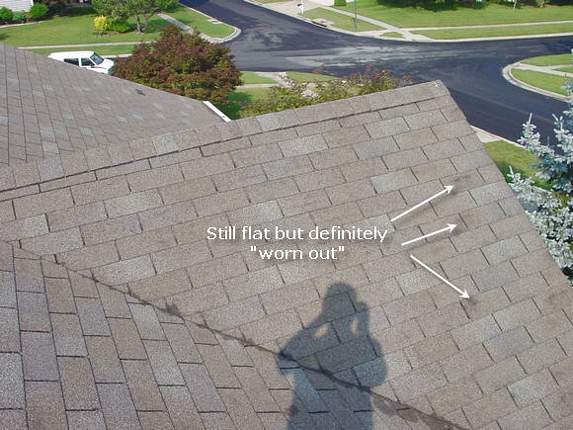 The existing roof is flat -- not curling -- with 20 year shingles (very thin) -- perfect for the roof over.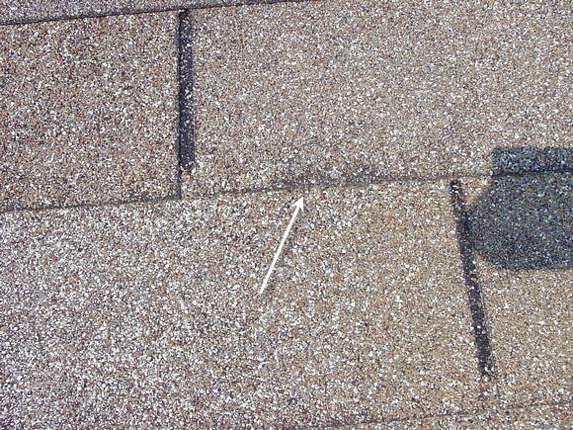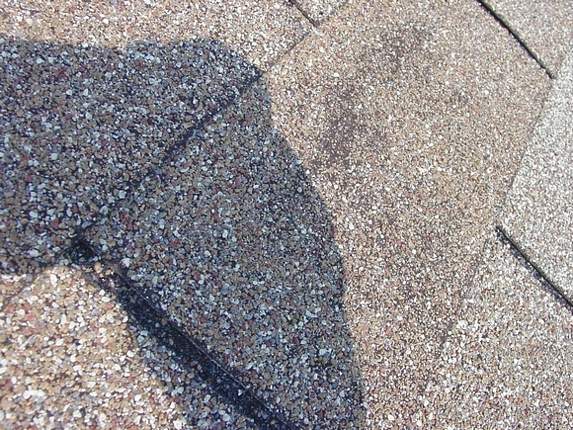 Heavy to moderate granule loss is evident on many of the shingles.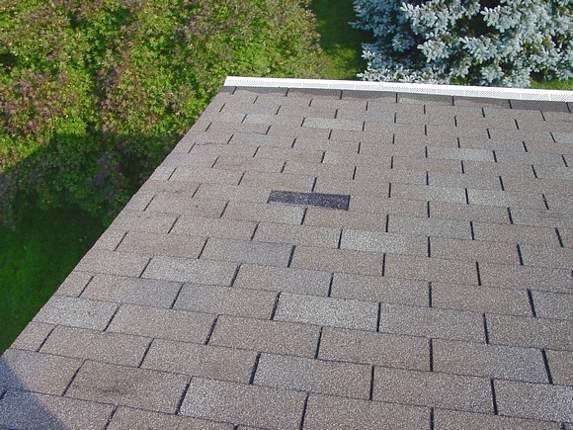 . . . and there are some missing shingles as well.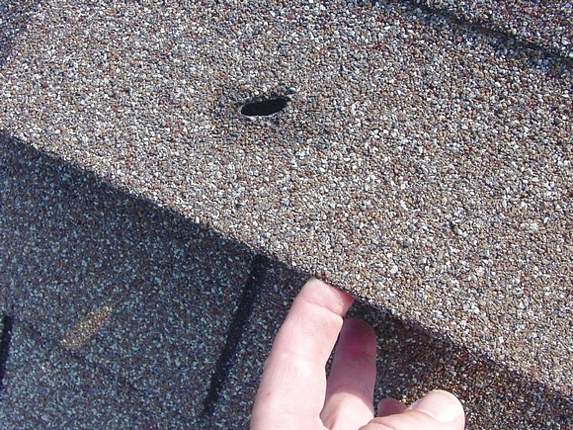 Here's a nice leak!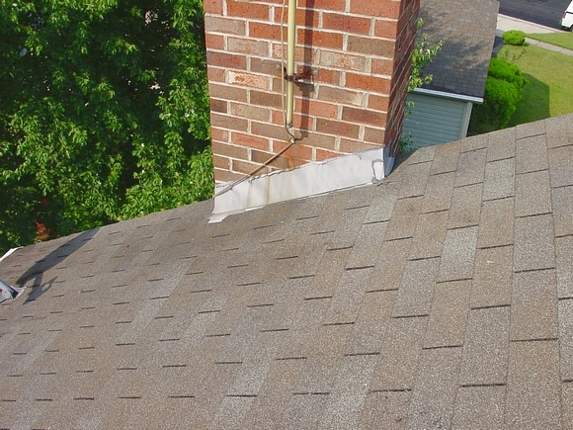 Chimney flashing looks OK, but we'll replace it.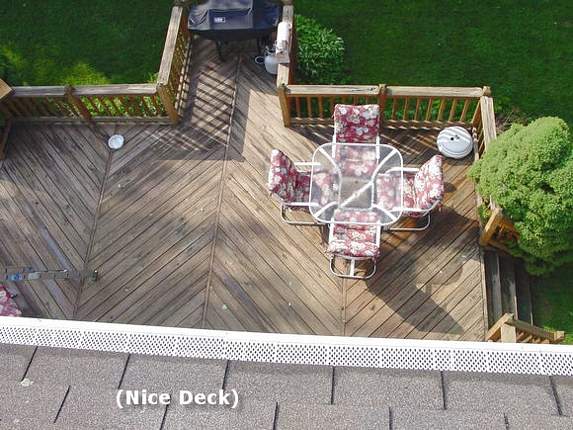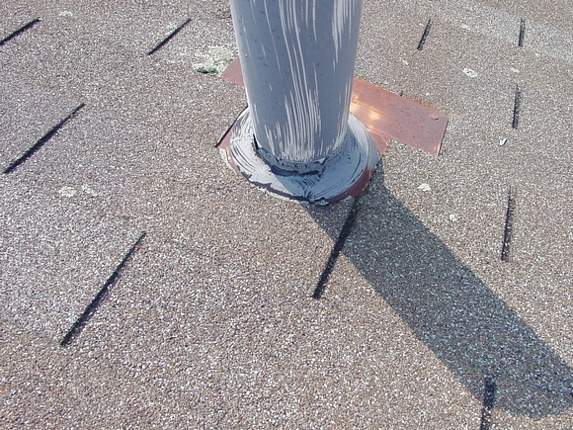 Of course all of the old leaky pipe collars get replaced.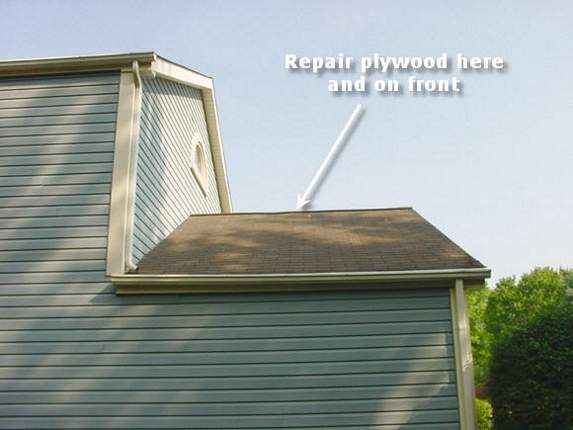 There are some plywood issues that will get investigated and repaired if necessary.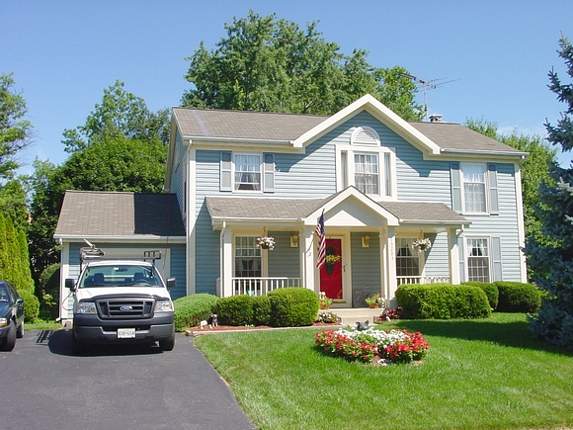 OK, we're ready for the shingle delivery. You can see the chalk lines on the upper left.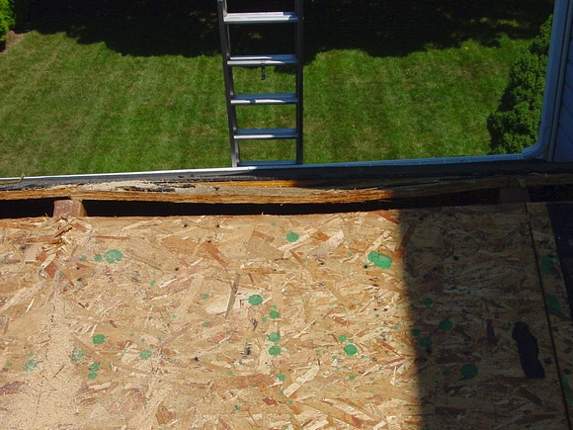 Here is the plywood issue; looks like a slight leak in the ridge vent caused the OSB (oriented strand board) to buckle a little bit. We will replace it with 1/2" CDX.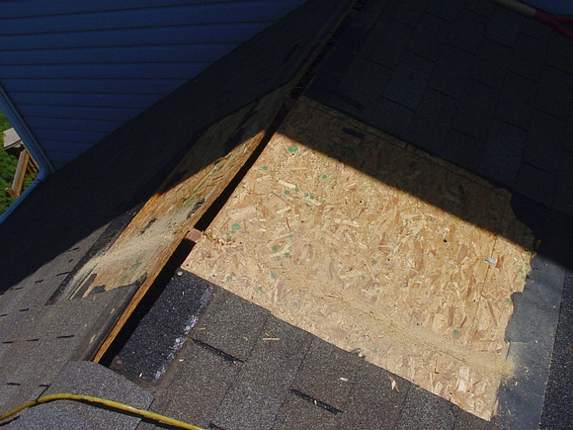 Cutting out the old plywood.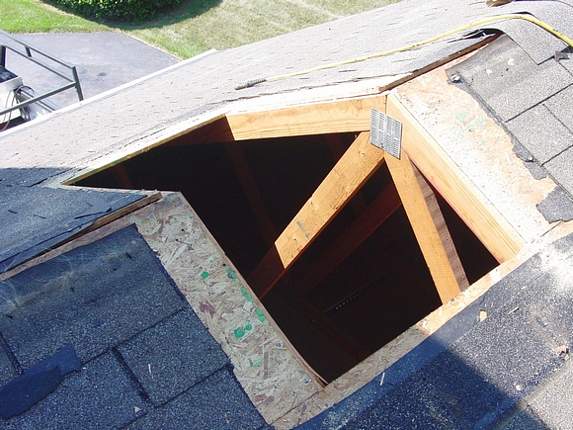 Notice that we cut it halfway on top of the trusses.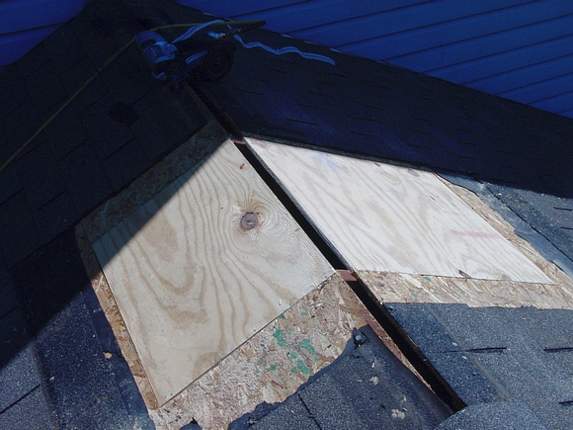 . . . and now the new plywood is in place, ready for synthetic underlayment and new Horizon Shingles.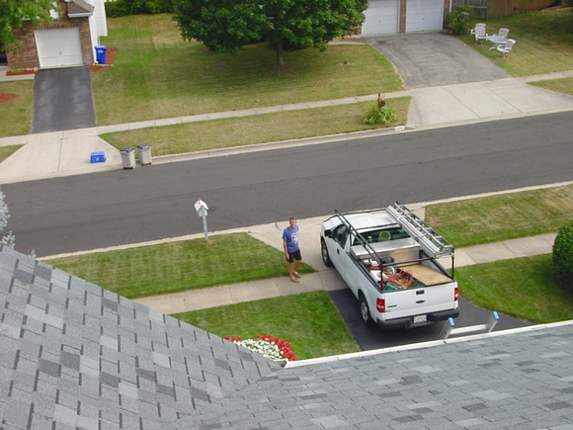 The new shingles are looking pretty good!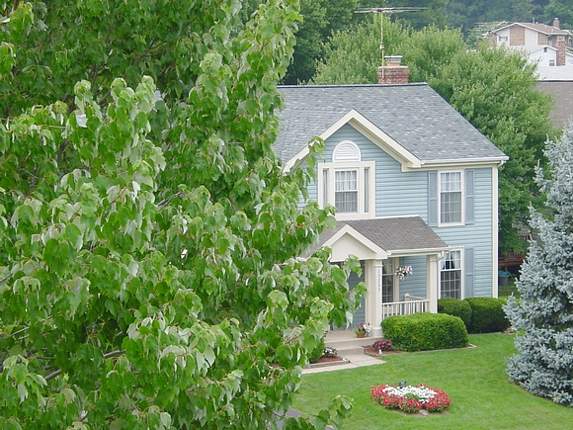 Bird's eye view from the roof across the street (we're doing that one next).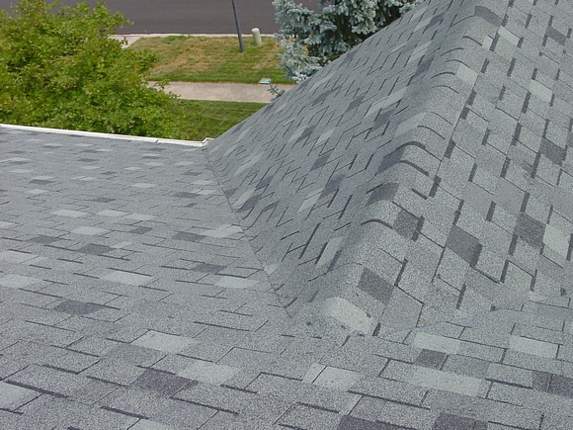 Nice, straight California Cut in the valley; looks great!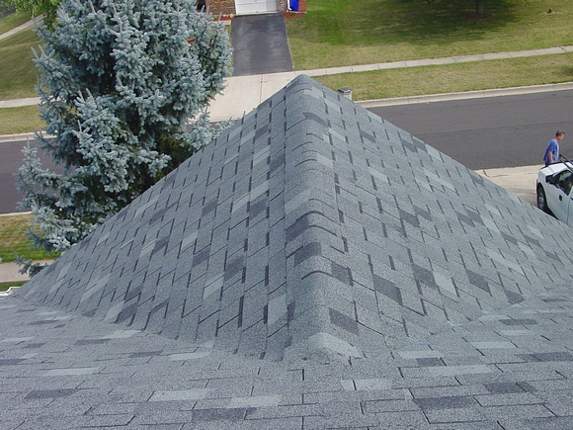 Everything on the new roof is nice and straight, and perfectly flat.

Pipe collar and bathroom vent cover (flashing).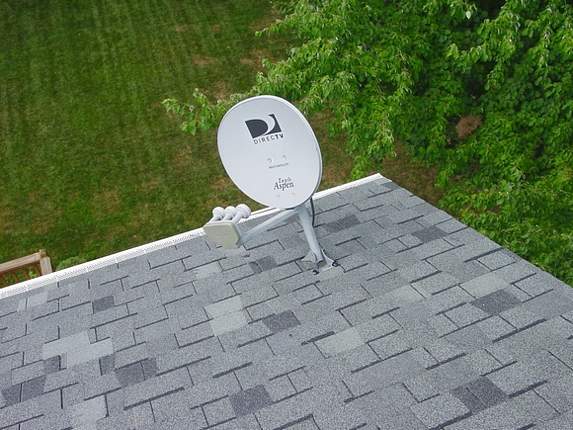 We always remove the satellite dish, reroof, and then put the dish brackets back over the same holes so that there are no connection issues.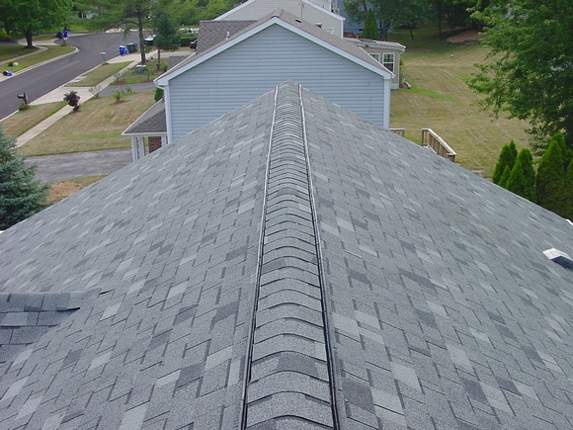 Shingle Vent II ridge vent system: a truly "green" ventilation product because it uses natural convection and "venturi" action to remove air and moisture from the attic -- no electrical energy necessary. In fact, this system will move more air than your average attic fan.

Ridge vent nice and straight!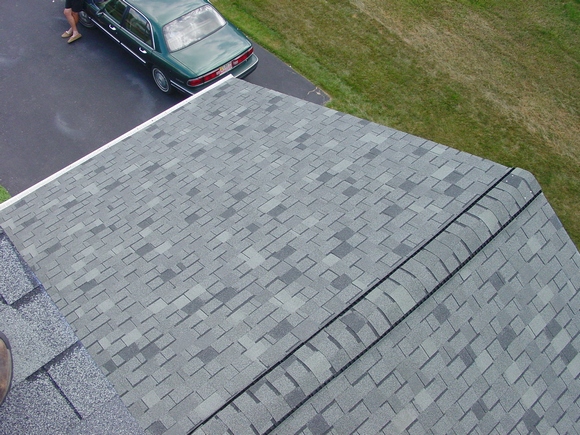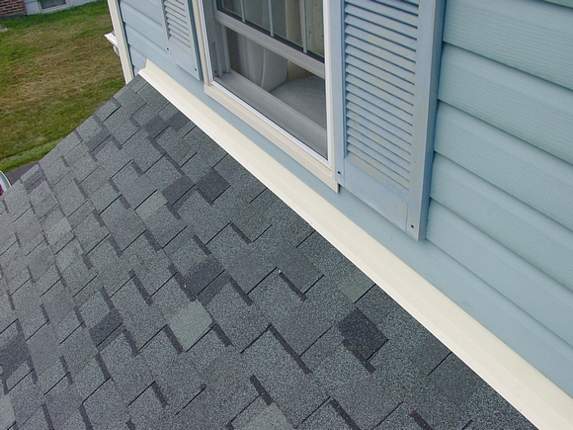 New custom made aluminum flashing is always installed where necessary.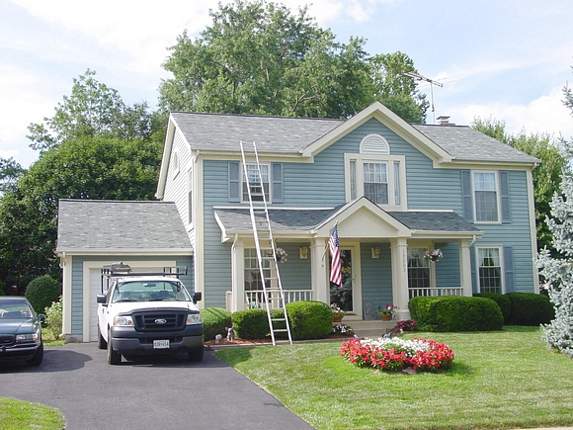 Now that's a showcase roof.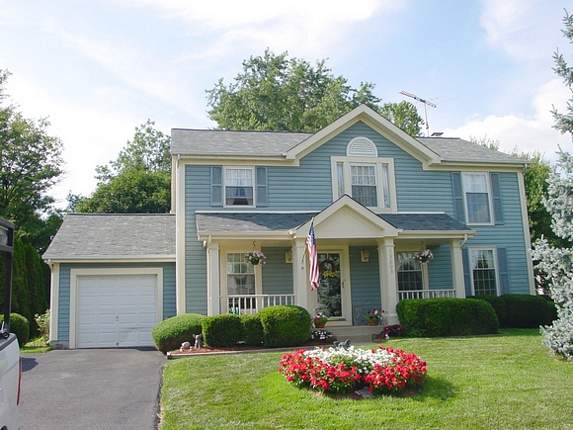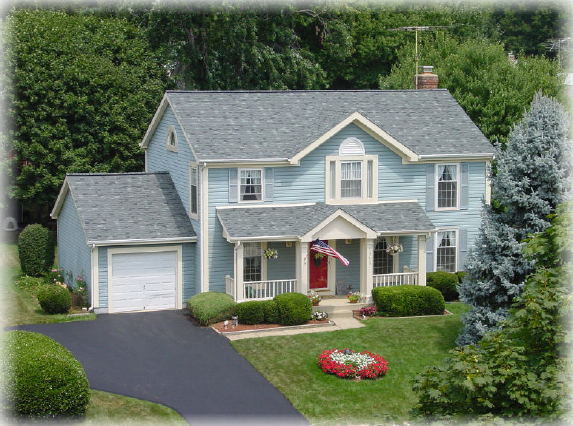 Silver Spring Md Roof Over successfully completed. Shingles are Certainteed's Horizon Line, color graystone. Picture taken from across the street on a neighbor's roof that we also "roofed over".