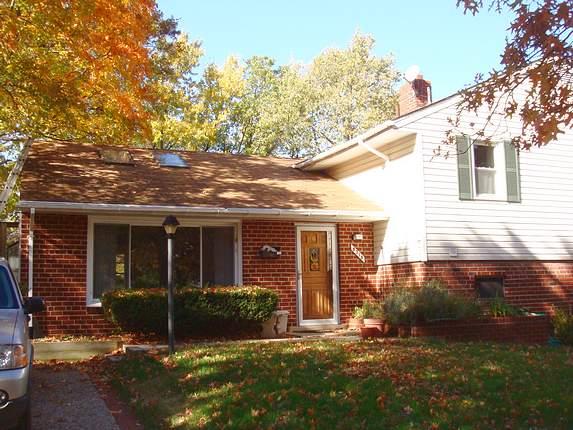 Md Roof Inspection and Estimate: This house in New Carrollton, Maryland has two layers of existing shingles and needs a new roof. We're here to make a thorough roof inspection, detailed analysis, and "unbeatable" roof estimate.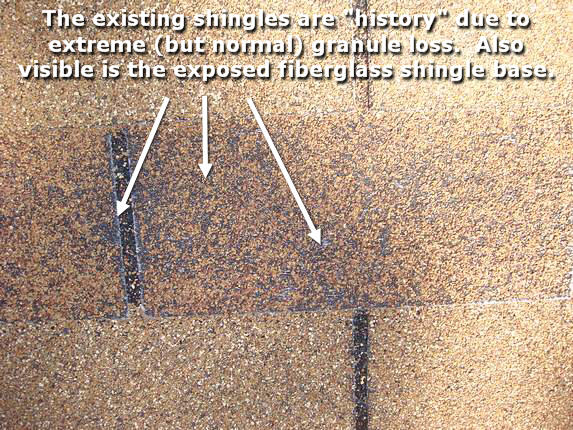 Failing and Worn Out Shingle. Some Obvious Signs:
Granule loss, as above.

Exposure of the fiberglass base material, as above indicates depletion of asphalt in the shingles -- just plain "worn out".

Curling, cracking, distortion of shingles.

Shingles no longer sealing together.

Missing shingles, flashings, etc.

Excessive staining or discoloration of shingles.

Visible leaks inside the home.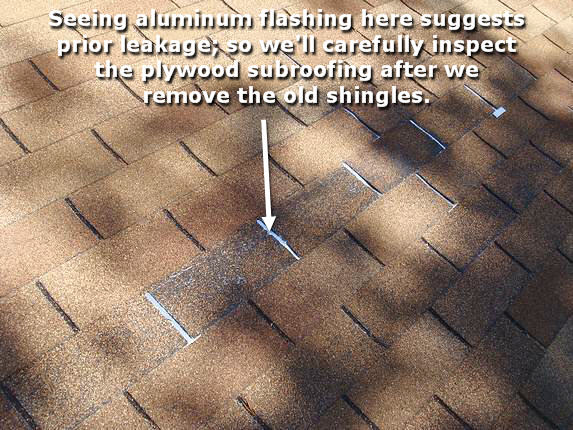 Subroofing Plywood Inspection and/or Replacement: Sometimes, even when I go into the attic to make an inspection, it can be hard to tell exactly where there may be a subroofing issue. I can usually predict with 99% accuracy (based on my 30+ years of home roofing experience) when and where there are problems -- just by trial and error testing and observing the roofing surface from the exterior.

I'll give you a "square foot price" for replacing questionable plywood and then document what was found with "before-during-after" pictures posted on your webpage . . . to give you the "veification" that you got the plywood replacement you expected.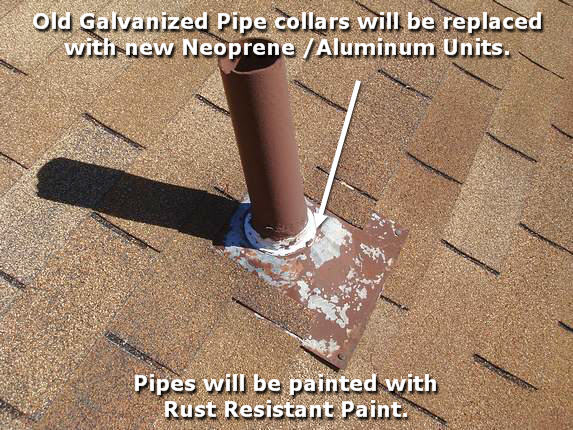 Pipe Collar Replacement: All existing pipe collars are replaced with new neoprene and aluminum units, and sealed with Geocel to guard against wind driven rains. Here's an example of a typical md pipe collar replacement.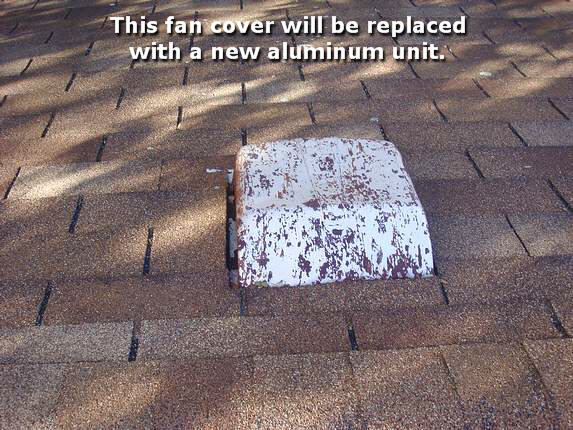 Fan Vent Flashing Replacement: Old fan housings are ALWAYS replaced with new aluminum units and then sealed with Geocel Tripolymer Sealant. By replacing old flashings with new units, the possibility of overlooking "hairline cracks" and other potential future leaks is completely eliminated.

Click here for more information on Md flashing replacement.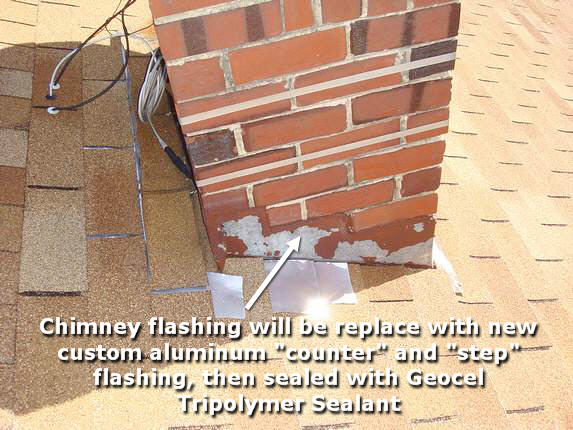 Chimney Flashing Replacement: All chimney flashings are ALWAYS replaced with new custom formed aluminum flashings that we make "on site" with our fancy sheet metal brake. Flashings are then sealed with Geocel Tripolymer Sealant -- the best and longest lasting sealant on the market (we feel, anyway). Click this link to see more about our professional chimney flashing replacement.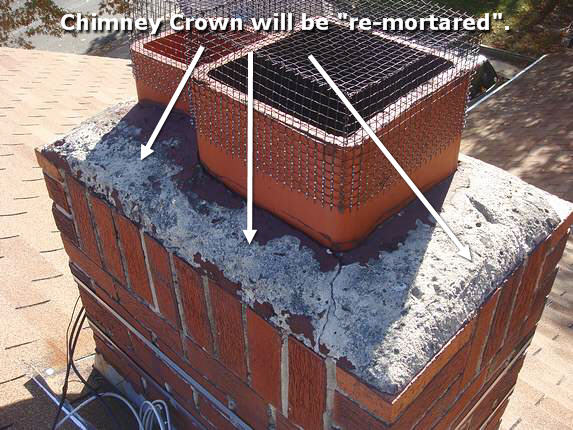 Chimney Crown Repair or Replacement: This is an area that is overlooked by
I'd guess maybe 99% of all roofing estimators -- but not by us! Click this link to see before and after examples of our chimney crown replacement.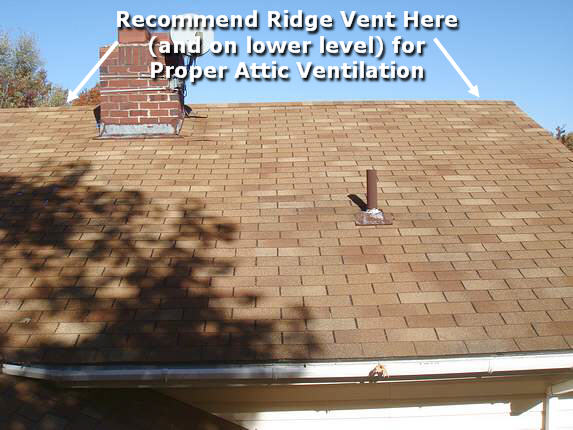 Proper Attic Ventilation for better insulation, lower energy bills, and a longer lasting roof: We almost always recommend ridge vents by Air-Vent (a Certainteed Company) where increased ventilation is necessary. Click here to evaluatemetal ridge vents vs."shingle over" vents by Air-Vent.

By keeping your roof cooler during the summer, and by removing unwanted moisture all year 'round (something most attic fans just can't do), you'll be getting the best protection possible . . . and you'll eliminate paying for wasting energy!

A truly "GREEN" Energy Saving Product:

Saves Money

on Heating and Cooling Costs!

Saves Money

on Electrical Energy that would power an attic fan!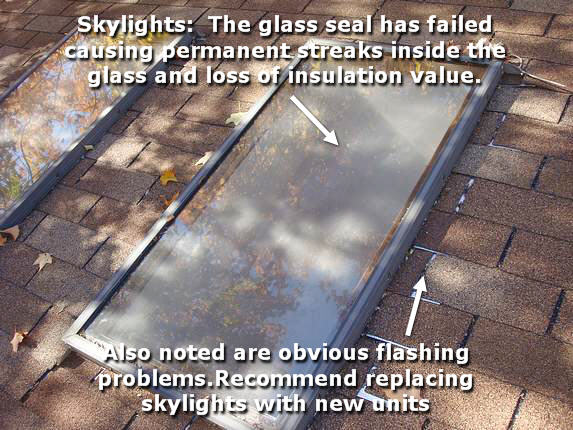 Skylight Inspection and Analysis:
It's not unusual to find skylights over 10 years old with failing glass seals that result in permanent streaks and stains in between the pains of insulated glass.
It's almost always better (and costs less) to replace the whole skylight unit rather than just the glass -- and that's great in this case since the flashing around the skylights is kind of "suspect". Here, we would suggest replacing this unit with a
premium flat mount skylight
so that no interior alterations or repairs to the drywall or framing are necessary. You'll be surprised at the low price, too.